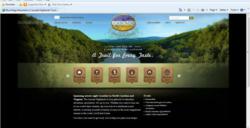 Dobson, NC (PRWEB) April 27, 2011
Cascade Highlands Tourism Association launches (CH) a new Web site promoting northwest North Carolina and southwest Virginia located at http://www.trueblueridge.org. The site uses numerous new and innovative trip-planning tools for travelers to the Yadkin Valley wine region and the Blue Ridge Mountains.
The Web site promotes tourism information for Alleghany, Stokes, Surry, Wilkes and Yadkin counties in northwest North Carolina along with Carroll and Grayson counties and the City of Galax in southwest Virginia.
A new simple but vibrant design showcases a wide array of experiences, including attractions for those who come to Mount Airy, NC to trace the steps of native son Andy Griffith. The site also includes information on the Yadkin Valley wineries, an emerging American Viticultural Area in North Carolina. Other venues include those for history, arts, outdoors, events, shopping, dining and bluegrass.
According to Brandon McCann, executive director of the CH, the site is the latest in a number of digital marketing initiatives planned for the region. The new site is an example of how a combination of research, creative and technology are combined to create a visual and content-rich experience.
New for visitors, the Web site integrates Google Maps along with a map explorer, which is a trip-planning tool that allows consumers to plot and customize their own experience. An additional feature is the itinerary builder that allows online visitors to build and save trips in their own custom-built itinerary area. Area businesses can also post their travel packages and coupons on the site.
In the short time since the site has been online, weve received a very positive response including an increase in leads, said McCann. I think the site does a good job of conveying our Trail for Every Taste advertising campaign, which says Whether you are interested in wine, old-time music, history, or Mayberry, weve got a trail for you.
About Cascade Highlands Tourism Association
The Cascade Highlands Tourism Association is a nonprofit organization devoted to marketing southwest Virginia and northwest North Carolina. The association is a public-private consortium of neighboring counties that work together to increase travel to the Yadkin Valley wine region of North Carolina and the Blue Ridge Mountain region of Virginia.
###