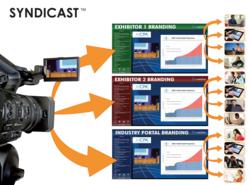 Jamestown, NY (PRWEB) March 26, 2013
The Virtual Edge Institute(VEI) will be offering their community the ability to watch a live stream from the digitalNow Conference being held April 4-6, 2013 in Orlando, FL.
This is an example of a syndicated event whereby Digitell is taking the live events hybrid extension and allowing the event producer to embed the event in other websites. Syndication is a technique for expanding the audience and monetizing the event (offering your event to sponsors and exhibitors to embed on their own sites and drive trafficcontent marketing).
"In the 21st Century, associations cant afford to regard sophistication in technology as a burden or simply as a strategic obligation. In this new universe associations must continually explore the available tools and knowledge in order to understand not only what they offer, but also how they may impact the organization," says Michael Doyle, Executive Director of VEI.
"Only once that understanding is reached can you then extend the new knowledge and assess the shifts in revenue, governance, membership models and volunteer engagement it has the potential to generate. As you rise to meet the challenges and take advantage of the benefits facilitated by these constant shifts, you are prepared to lead your association to expand, thereby increasing its capacity for engaging membership, revenue and growth and ensuring its future," adds Doyle.
The Theme at this year's DigitalNow Conference is "The Big Bang: Experience the New Association Universe at digitalNow 2013!" Explore, Extend, Expand: The New Association Universe.
digitalNow 2013 brings together the most powerful and innovative technologies for consideration, the greatest minds to help synthesize and understand their ramifications to the association sector and a unique opportunity to engage with a passionate, experienced community of leaders to collaborate on the most brilliant applications, ideas and practices this side of the Milky Way.
Digitell will be streaming the digitalNow sessions to multiple web sites including VEI, Enagage 365 and MPINY, significantly extending the reach of the digitalNow education to new audiences, new markets and demonstrating the power that syndication can bring to your meeting.