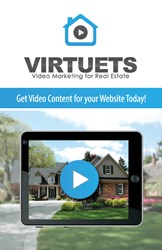 Santa Rosa, CA (PRWEB) November 09, 2013
Countless studies and statistics, from the likes of Google, Brainshark, NAR, aimClear, SimplyMeasured and more, have established the relevance and popularity of video when it comes to online marketing and usability. And real estate is one of online videos most relevant industries. With the launch of Virtuetsthe latest brainchild from real estate web experts at Properties Onlineagents and other real estate professionals can capitalize on the popularity of video, regardless of their experience (or lack thereof) in creating video.
Landing pages with video have up to 800% more conversion than the same page without a video , and videos are shared 1,200% more times than links and text combined . And according to Brainshark, the information retained in one minute of online video is equal to about 1.8 million written words. Thats equal to an astounding 3,600 blog posts or web pages.
Research shows that video attracts two to three times as many monthly visitors and doubles the time those visitors spend on a site , says Amanda Cornelius, co-founder and CEO of Properties Online. We created Virtuets so that our users and clientsreal estate agents across the United Statescould attract more listings, serve their clients better and develop a stronger web presence using best practices and leading edge technology, no matter how technical the agent him or herself may be.
With Virtuets, agents have access to video success in 3 different ways:
1. Customized, Personal Promotion Videos for real estate agents;
2. Website video content for buyers and sellers, complete with customized call-to-action closing scenes; and
3. Property videos for each of the agents listings, through use of the simple to use listing video builder tool.
The National Association of Realtors (NAR) tells us that 90% of homebuyers conduct their home search online. Internet users want video. The two go hand in hand, and Virtuets serves as matchmakers for busy real estate professionals who need to upgrade their online presence through video.