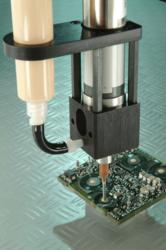 Wayne, New Jersey (PRWEB) January 11, 2013
Fisnar Inc. will be showcasing at the IPC APEX Expo, the premier electronics industry conference and exhibition, in San Diego this February. Fisnar can be located at Booth 2807 and will be presenting a broad range of their cutting edge dispensing products and systems. Several examples of industrial robots will be demonstrated on site, including gantry and desktop models. Metering & mixing systems for dual part fluids will also be on display, manufactured by Fisnars sister company, Liquid Control Ltd.
Also presented at APEX for the first time will be Fisnars unique dispensing management system for superior industrial performance – QuantX. QuantXTM is a silicone-free family of integrated dispensing components, manufactured using precision mold designs and inspected to strict tolerance. Continuous testing and inspection procedures ensure that whichever system size is selected, the components will meet an identical performance in dispensing accuracy.
Other products featured include a wide selection of thin and thick viscosity fluid dispensing valves, manual bench dispensing systems and dispensing needles.
About Fisnar:

Fisnar Inc. is a world leader in fluid dispensing and dispensing automation. Fisnar Inc. manufactures solutions for adhesive, glue, silicone, RTV, anaerobic resin, epoxy, UV cure formulations and many more fluids. Fisnar