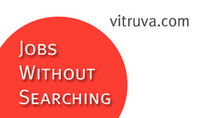 Waltham, MA (PRWEB) February 11, 2009
Vitruva, Inc., the leading next-generation career site for technology professionals, today announced the appointment of Tad Goltra as chief marketing officer. In his new role, Goltra will lead all aspects of marketing strategy and execution including brand development, marketing communications, product management and business development.
Goltra brings more than 15 years of experience in technology, marketing and the recruiting industry to Vitruva, having held leadership roles at several highly successful and innovative technology companies. Goltra joins Vitruva from ZoomInfo where he built and led the company's Recruiting Business Unit, delivered record new business growth, and launched strategic partnerships with several leading technology companies in the recruiting industry.
Prior to ZoomInfo, Goltra was vice president of product management at Monster, where he managed the company's flagship careers products for recruiters and job seekers – the largest portfolio of recruiting products in the world. Goltra led the introduction of numerous new products and product enhancements at Monster, fueling annual revenue growth of 30% during his tenure. Previously, Goltra held senior-level product and marketing positions at Vicinity Corporation (acquired by Microsoft) and Hewlett-Packard.
"I am delighted to welcome Tad to Vitruva," said Jindrich Liska, chief executive officer and founder of Vitruva. "His extensive experience developing winning products, marketing programs and partnerships in the recruiting industry makes him the perfect fit as we continue to scale the business."
"This is an exciting time to be joining Vitruva," said Goltra. "Vitruva's groundbreaking technology is radically improving the search and matching process for both job seekers and recruiters. No other company is delivering as precise job matching as Vitruva and I look forward to playing an integral role in building awareness and momentum for the company."
About Vitruva

Vitruva is the leading next-generation career site for technology professionals. Unlike other career sites that rely on imprecise and time consuming keyword searching, Vitruva uses detailed profiles, coupled with a patent-pending artificial intelligence system, to match candidates with job opportunities. In less than 10 minutes, candidates can pinpoint the jobs that best fit their unique skills, experiences, and requirements and recruiters can generate a ranked list of the most qualified candidates for their jobs. For more information, please visit vitruva.com.
Media contact:

Jindrich Liska

jindrich(at)vitruva.com

phone: 978-405-9410
This press release was distributed through eMediawire by Human Resources Marketer (HR Marketer: http://www.HRmarketer.com) on behalf of the company listed above.
###