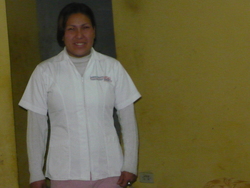 Seattle, Wash. (PRWEB) March 15, 2010
As college basketball fans get ready to cheer on their favorite team in the NCAA Tournament, fans of award-winning education micro-lending website Vittana are doing their own bit of bracketology to help send students in developing countries to college. Vittana, a person-to-person lending website that allows users to make small loans to college students in poor countries around the world, announced the start of its first annual March Microfinance Madness: The Vittana Education Challenge. The event brings together bloggers, college students, startups and other groups in a competition to lend the most money to college students around the world. Current event participants include bloggers at the Huffington Post and TechCrunch, tech companies in Seattle and San Francisco, including Facebook, TeachStreet and Redfin, and college students from BYU, University of California, Duke, and UNC.
The March Microfinance Madness event builds upon Vittanas early success in using person-to-person micro-lending to create some of the first-ever access to student loans for young people in developing countries. Since launching in May 2009, Vittana has developed programs in Mongolia, Nicaragua, Paraguay, Peru, and Vietnam. The loans from these programs, which range from $ 200 to $ 1,500, are then funded by individual lenders on the Vittana website. Together, $ 25 and $ 50 at a time, the Vittana community has made over $ 110,000 in loans to nearly 200 students around the world — 200 students, who would not have otherwise been able to afford college, are now getting their degrees and becoming nurses, accountants, lawyers, mechanics, teachers and much more. Vittana students have a 97 percent repayment rate.
Vittana CEO Kushal Chakrabarti said he wants to do even more. Were incredibly proud of what the community has done so far, but in places like Vietnam and Nicaragua, there are students on waiting lists for our loans. With such a great group of participants going head-to-head during the Vittana Education Challenge, I know well start reaching those students. By tapping into the passion of its lenders and the competitive spirit of the month, Vittanas March Microfinance Madness challenge will give even more students the opportunity to finish school, find work, and build better lives for themselves and their families. The numbers really speak for themselves, said Chakrabarti. In a place like Peru, where only six percent of women graduate from college, $ 700 is all it took to help a young single mother named Nardith finish her nursing degree. She waited for almost four years, but because of 17 people on Vittana, including a mom in Norway, an MBA student in Boston and a book editor in Portland, Nardith was able to re-enroll in school in just two months.
Individuals interested in participating or learning more can visit http://www.vittana.org/marchmadness2010.
Vittana is a registered 501(c)(3) organization headquartered in Seattle, Washington. Driven by a core belief that the biggest waste in the world is not oil or food or, really, any other material thing — but, rather, human potential, Vittana envisions a world where young people anywhere can get a loan for college. Vittana was recently featured in the New York Times (College Loans as Development Aid), was voted by 1.7 million people as the #1 Game-Changer in Philanthropy on Huffington Post and named one of 5 Social Capitalists Who Will Change the World in 2010 by Fast Company.
For more information, or to schedule an interview with Kushal Chakrabarti, please contact Lindsey Maxfield by email at lindsey(at)vittana(dot)org.
# # #