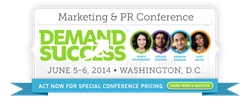 Los Angeles, CA (PRWEB) April 30, 2014
Savvy marketers are gearing up for the Demand Success 2014, Vocus annual Marketing and PR Conference on June 5th -6th at the luxurious Gaylord Hotel in Washington D.C.
Major sponsors include Google, the American Marketing Association, Social Media Examiner, and Social Fresh.
The annual convention features an impressive lineup of the top minds in marketing, including keynote speakers Randi Zuckerberg of Zuckerberg Media and Google's Digital Marketing Evangelist Avinash Kaushik. These distinguished speakers will provide attendees with actionable advice to improve every aspect of their promotional strategies from SEO to B2B brand building and visual storytelling.
Early bird discount registration for Vocus clients ends on May 15th; current customers are also invited to participate in special pre-conference hands-on Marketing Suite and PR Suite software training sessions with Vocus staff members on June 4th. Non-customers are eligible for $ 100 in savings until May 15th.
Demand Success consists of several intimate sessions with industry thought leaders for exclusive presentations along with open question/answer forums. Attendees may make their own schedules from the master agenda or choose from 3 programs created especially for PR, marketing, and social media concentrations. In addition to the main speakers, 8 distinguished guests will deliver the first ever Ignite Talk after actor Adrian Grenier's closing keynote address on Thursday, June 5th.
Although the agenda appears to emphasize digital marketing exclusively, the Demand 2014 experts agree that a multi-channel or integrated approach brings the best results for contemporary brands. PrintFirm online marketing director Katherine Tattersfield considers Demand Success a print-friendly conference: "The 2014 convention agenda touches on several relevant topics for folks in the printing and mailing industries. Print usually plays an important role in pro PR and social media campaigns. Besides, every print marketer must master the online side of advertising as well."
Tattersfield is a long time Vocus supporter who advocates PR techniques for small business: "When I joined the team at PrintFirm, I recommended press releases through Vocus as a way to raise brand awareness. After our first release appeared on Yahoo News, my superiors here became believers, too. For a small company, there's no better way to spread the word online to new audiences. Our releases drive targeted traffic to our website and appear on big name news sites we'd never be associated with otherwise. I'm eager to learn the latest tactics from Chris Brogan and the rest of the all-star presenters at Demand Success in D.C.!"
To register for Demand Success, please visit http://www.vocus.com/conference
About PrintFirm
PrintFirm, Inc., trusted leaders in online printing, mailing, and design since 1996. Start your next print project at http://printfirm.com.