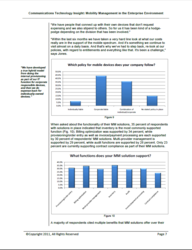 Gaithersburg, MD (PRWEB) August 03, 2011
A new independent research report from Voice Report, a publication of CCMI, uncovers an enterprise marketplace that is taking a slow and measured approach to deploying mobility management (MM) solutions while watching the early adopters to see if true cost savings and enhanced business operations can be realized.
The report, Mobility Management in the Enterprise Environment, was based on a survey of 150 executives with telecommunications decision-making responsibilities and conducted by Voice Report in conjunction with BizTechReports, an independent reporting agency that covers enterprise technology trends. The survey is the third issued this year by Voice Report as part of their ongoing Communication Technology Insight survey series focused on the enterprise communications marketplace.
The survey responses of IT decision makers in dozens of industries reveal that only 33 percent of the companies represented are currently using an enterprise-wide solution for mobility management. Of those not currently using a MM solution, nearly 40 percent say they're waiting to see how MM solutions work for other enterprises, and 37 percent report concerns about the administrative burdens of implementing such solutions.
Here are just a few more findings:


30% of respondents — almost the entire segment currently using MM solutions — reveal gaining some level of wireless cost savings since implementing MM
The top two objectives for deploying MM solutions are expense management and improving mobile device security, according to respondents
26% indicate that their organizations operate their own in-house MM system
56% report that their organizations currently manage more than 500 mobile devices, and 32% manage more than 2,500 devices
This briefing provides real-world insight into true mobility management solution penetration rates … platform selection (In-house, SaaS, BPO, etc.) … actual savings and benefits realized … future investment plans … challenges following implementation … and much more.
Download this free survey report, Communications Technology Insight here:

http://www.thevoicereport.com/Enterprise-Mobility-Management-Report
A panel of enterprise telephony managers and mobility experts discuss the survey findings during a webinar on Wednesday, Aug. 3. Information about the webinar and how to obtain a recording can be found here:

http://www.thevoicereport.com/Consumerization-Mobility-Management
About CCMI and Voice Report

CCMI is the industrys leading provider of telecom rate and data solutions and information. We are dedicated to delivering relevant, highly specialized and strategically focused content. CCMI publishes Voice Report, the leading independent source of telecom news, analysis and award-winning guidance on communications technology services and equipment for the enterprise. For analysis and guidance on the latest telecom happenings, visit http://www.TheVoiceReport.com, and sign up to receive email updates. Explore white paper and webinar resources at http://whitepapers.thevoicereport.com.
About BizTechReports

BizTechReports is an independent reporting agency with offices in Washington, DC and the San Francisco Bay Area that analyzes user trends in business technology. BizTechReports explores the role that technology products and services play in the overall economy and/or in specific vertical industries. For more BizTechReports white papers, case studies and research reports, visit http://www.biztechreports.com.
###