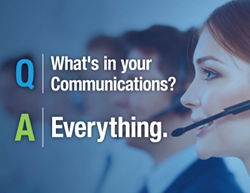 San Francisco, CA (PRWEB) May 18, 2015
VoiceBase, a leading provider of cloud-based voice transcription, search and discovery today announced that it has formed a partnership with GENBAND, a leading developer of real-time communications software solutions. The new alliance allows VoiceBase to extend its platform for extracting actionable intelligence from spoken information, globally to businesses of all sizes by leveraging GENBANDs Kandy, a communications Platform-as-a-Service (PaaS). VoiceBase is also a sponsor of the upcoming GENBAND Perspectives15 customer and partner summit and will be highlighting its solution as part of the Kandy Ecosystem Showcase.
We are excited to give Kandy customers the opportunity to easily integrate VoiceBases world-class speech technology and machine learning algorithms, when using Kandys broad suite of real-time communications solutions, said Walter Bachtiger, Founder and CEO at VoiceBase. The single most important aspect of any communications solution is the actual spoken information. Through our partnership, Kandy users of audio, video, mobile and WebRTC calling services gain a more valuable user experience.
Kandy is a one-of-a-kind platform that provides independent software vendors, systems integrators, service providers and developers with easy-to-use Application Programming Interfaces (APIs) and Software Development Kits (SDKs) to embed carrier-grade communications capabilities into business applications without having to install or maintain infrastructure. Kandys cloud offerings are used by industry leading companies such as SAP and Accellion.
VoiceBase powers its award-winning platform with an amazingly fast, accurate and low-cost voice transcription solution from which relevant keywords and phrases are surfaced. Using machine-learning techniques VoiceBase can automatically score or classify calls to specifically identify for example; hot leads, agent performance, customer satisfaction and more. The insights derived from call recordings when attached to automated processes help businesses make better decisions.
We recognize the high-value predictive analytics Kandy users can enable through the integration of VoiceBase, said Paul Pluschkell, Executive Vice President of Strategy and Cloud Services for GENBAND and Founder of Kandy. Our combined solution represents a strong complement to traditional web analytics, creating more effective and automated digital marketing campaigns as an example.
Perspectives15, which takes place May 17 -21 at the JW Marriott Orlando Grande Lakes, brings together the brightest minds in the communications, software, service provider, and channel partner and enterprise communities to share the latest trends, issues and opportunities affecting the communications landscape.
About VoiceBase

VoiceBase provides easy-to-use APIs that automatically transcribe audio and video, extract relevant keywords and topics and enable the instant search and discovery of spoken information. Every month VoiceBase processes millions of recordings that allow users to search from the web or their mobile device into the timeline of a recording, and play the precise parts of a conference call or webinar, educational lecture, podcast or video interview for example. VoiceBase customers include contact centers, conferencing service providers, video and education platforms, telecom providers and Fortune 500 companies. VoiceBase is privately held and is based in San Francisco, California. To learn more visit http://www.voicebase.com.
About Kandy

GENBANDs Kandy communications Platform-as-a-Service (PaaS) is a real time software development platform, built from GENBANDs core communications, presence, security and real time technologies. Kandy enables service providers, enterprises, software vendors, systems integrators, partners and developers to enrich their applications and services with real time contextual communications, providing a more engaging user experience. With Kandy, companies of all sizes and types can quickly embed real time communications capabilities into their existing applications and business processes. For more information visit kandy.io.
About GENBAND

GENBAND is a global leader in real time communications software solutions for service providers, enterprises, independent software vendors, systems integrators and developers in over 80 countries. The companys Network Modernization, Unified Communications, Mobility and Embedded Communications solutions enable its customers to quickly capitalize on growing market segments and introduce differentiating products, applications and services. GENBANDs market-leading solutions, which are deployable in the network, on premise or through the cloud, help its customers connect people to each other and address the growing demands of todays consumers and businesses for real time communications wherever they happen to be. To learn more visit http://www.genband.com.
GENBAND, the GENBAND logo and icon and Kandy are trademarks of GENBAND.
Company Contacts:

Emily Blazensky

VoiceBase PR

+1.408.702.7160

Emily(at)VoiceBase(dot)com
Dennis Watson

GENBAND US PR

+1.972.521.5921

Dennis(dot)Watson(at)genband(dot)com
Catherine Berthier

GENBAND International PR

+1.646.741.1974

Catherine(dot)Berthier(at)genband(dot)com