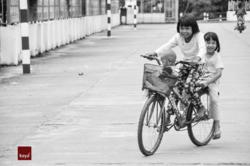 (PRWEB) May 08, 2013
Kaya Responsible Travel (Kaya), a leading volunteer abroad organization, coordinates a variety of volunteer abroad, language learning and gap year programs around the world for participants of all ages and backgrounds. The organizations photography expedition takes a group of both budding and experienced volunteer-photographers through the hill tribes of the rural areas surrounding Chiang Mai, Thailand. Armed with their cameras, the aim of these volunteers is to take photos to raise awareness of the serious issues faced by the poverty-stricken communities in these areas. Photographic documentation of the human trafficking trade and those affected by it is a vital tool to allow people who are far removed from Thailand and the situation at hand get a visual idea of this unseen world and encourage them to help. Raising awareness of the issues is the first step in putting a stop to them completely, which is where Kayas volunteer abroad participants step in.
Sandra Laurin, an aspiring photojournalist from Toronto, Canada, joined the expedition in December of 2012 with plenty of experience already behind her. She had photographed her way through 54 countries already, attracted to Kaya's volunteer project after having just shifted her focus to capturing images of the issues facing developing nations. She joined Kayas photography expedition in Thailand with the intention of capturing through her photographs the lives of the girls who are at risk of becoming victims of sex trafficking because of their backgrounds of poverty, lack of education and unrecognized citizenship.
Sandra commented:
The opportunity to go on the photo expedition was enlightening and actually changed the direction of my photography. I realized that my photos can make a difference and increase awareness of social issues. This experience that Kaya made possible has changed my "focus" in photography and in life.
After returning from Thailand, Sandra displayed her work at an exhibition in Toronto. Her exhibition was a beautiful example of how influential, inspiring, and rewarding a volunteer's work can be. Her online exhibition of the photographs she took in Thailand will continue to raise awareness of the issues faced in Thailand by families poor enough to turn to the horrifying prospect of selling their children in order to afford to live. The full body of work Sandra produced can be seen at http://www.phototravelonline.com.
Kaya runs the photography expedition two to three times a year and is always eager to find photographers, both skilled and novice, to further this wonderful cause and make human trafficking in Thailand a thing of the past. To learn more about the photography expedition in Thailand, click here.
About Kaya:

Kaya Responsible Travel's mission is to promote sustainable social, environmental and economic development, empower communities and cultivate educated, compassionate global citizens through responsible travel. This is achieved through Kayas coordination of volunteer abroad, language learning and gap year programs throughout Africa, Asia-Pacific, and Latin America. Responsible travel is about seeing the world in a manner that most respects and benefits local people, culture and the environment its travel in the real world. For more information, please visit http://www.kayavolunteer.com.