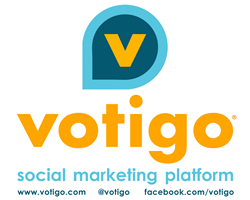 BOULDER, CO (PRWEB) September 09, 2014
Votigo, the complete social media marketing and promotions company, announced today that it grew its Software-as-a-Service subscription customer base by over 280% in the first half of 2014 compared to the same period in 2013. That number is up significantly compared to the over 100% year-over-year growth from 2012 to 2013 the company reported earlier in the year. Several strategic partnerships, changes in the Social Media Marketing vendor landscape, and an increase in demand from Middle-market companies have helped with the growth in subscriber base. In addition to the SaaS subscription growth the company has continued to serve new and existing clients with full-service and custom promotions and social apps.
At the same time its ever-expanding Social Media Marketing & Promotions Platform continues to be enhanced with new features including Social Campaign Calendar, Social Content Hub, Multi-format UGC Contest templates and increased Mobile capabilities.
The growth of our subscription customer base and the mass adoption of our always-on self-service promotions platform is very exciting for us! When we first launched in 2007 we knew marketers needed this kind of easy-to-use tool to create promotions to grow their brand and customer databases. says co-CEO and Founder, Jim Risner, Now that marketers fully buy into social, mobile, and web promotions we are seeing the increase in demand of our products and services.
Q1 and Q2 2014 Highlights: