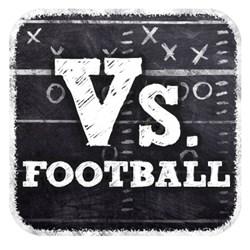 Kansas City, MO (PRWEB) November 01, 2013
Football fans around the world now have the opportunity to play a part in the next generation of football video games. Vs. Football has announced a crowdfunding campaign that allows fans to play a role in the games future development.
Vs. Football is a turn-based mobile football game available for free on Google Play for Android devices and the Apple iTunes App Store for iPhones and iPads. The game is like Words with Friends and other turn-based games but based on football strategy that lets players make the call. Offense. Defense. Goal Line. Special teams. Players call the plays against their friends.
Using a crowdfunding site called Kickstarter.com, developers of Vs. Football are offering fans the chance to get involved in the games success. Its the opportunity to be a part of the next generation of Vs. Football, says Matthew Barksdale, president of Kansas City, Mo.-based Engage Mobile (http://www.EngageMobile.com) and co-founder of Vs. Football.
For as little as $ 1, fans who sign up with the Vs. Football campaign on Kickstarter get their name mentioned on PlayVsFootball.com, plus all the updates on the game. Larger donations equate to better rewards, including items like a Vs. Football mini-football and Vs. Football jersey to exclusive advertising opportunities such as stadium naming rights.
Weve built a great football game that fans really like, but there are so many more ideas we want to incorporate into the game, says Chris Austin, co-founder of Vs. Football. We want to get ideas back from people on what we should add. Those who support the cause can leave comments on the site for developers.
To become a part of the next generation of Vs. Football, visit the Vs. Football Kickstarter campaign: http://www.kickstarter.com/projects/vsfootball/vs-football-for-mobile-football-versus-your-friend?ref=live
Download the Vs. Football App on iTunes for iPhone:

https://itunes.apple.com/us/app/vs-football/id700513212?ls=1&mt=8
Download the Vs. Football App on Google Play for Android:

http://play.google.com/store/apps/details?id=com.engagemobile.vsfootball
Engage Mobile Solutions builds apps and software for smartphones, tablets and other mobile and desktop devices. Their apps and software are custom designed for companies and focus on solving business problems that move the needle for clients. The company also works with clients to develop an overall mobile strategy and develop and execute mobile marketing plans. For more information about Engage Mobile Solutions, visit engagemobile.com or contact Matthew Barksdale at mbarksdale(at)engagemobile(dot)com.