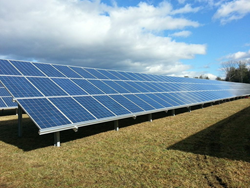 Hagerstown, MD (PRWEB) April 22, 2015
Through a public-private partnership with Spear Point Energy, EPG Solar and Northern Energy & Power, Washington County, Maryland Government is about to get a little greener during an Earth Day celebration at Kemps Mill Park in Williamsport.
Under a lease agreement for 130 acres of land, the County will receive more than $ 375,000 a year in rent and revenue with an estimated $ 100,000 in energy cost savings. In exchange, Spear Point Energy, EPG Solar and Northern Energy & Power assume responsibility for financing and installation of solar farms at Forty West landfill and other sites across the County.
This project, with no monetary investment from the County, will be generating all the power used by government operations with renewable energy on our own property, said Terry Baker, president, Washington County Board of County Commissioners. We are one of the first Counties in the country to be able to say that.
Currently, the County uses approximately 14 megawatts per year. Power generated from the creation of the solar field will be up to 20 megawatts of electricity per year by 2016.
"Projects like these around the Washington County landfills demonstrate how creative private initiatives, combined with progressive public leadership, can create value from unusual resources," said Robert Babcock, Managing Partner of EPG Solar, the project developer. "These projects are generating clean power, contributing to the bottom line of the county budget and fulfilling the state's green energy mandates. That is a huge win-win scenario."
A web dashboard detailing real-time production statistics from the solar field installations will be available following activation of the fields.
One megawatt has the ability to power 800 1000 homes in Washington County. By the end of 2015, the County and partners expect to have more than 6.6 million kilowatt hours in production from the solar field.
For media interested in more information, contact Public Relations and Community Affairs Manager

James Jenkins at 240-313-2384.
###
About Washington County, Maryland Government

Washington County, Maryland Government strives to fulfill its duty to the citizens of Washington County with regard to operational efficiency, fiscal responsibility, and responsiveness to the needs of the community. This vision is used to ably assist the Board of County Commissioners of Washington County in achieving goals for moving the County forward as present needs and future plans are addressed.
According to the Maryland Department of Legislative Services, the Washington County General Fund has one of the lowest costs per capita for services provided of all 23 counties and Baltimore City. This is attributed to the efficiency, staffing levels, and cost containment exhibited in Washington County Government operations. Visit http://www.washco-md.net for more information.
Get Connected and See Updates

Twitter: Tweet at us on Twitter @WashingtonCoMD

Facebook: Like us on Facebook at WashingtonCountyMD

YouTube: Watch on WashingtonCountyMD