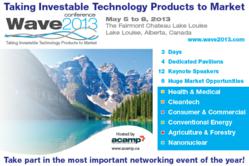 (PRWEB) March 21, 2013
The Alberta-hosted WAVE 2013 conference to be held May 5-8 is focused on building business partnerships in the international technology ecosystem. Over 400 corporate leaders and SME executives from nine countries attended the Wave 2011 Alberta conference.
Keynote speakers this year include top executives from major corporation and technology leaders including, Asahi Kasei, Corning, General Atomics, Lockheed Martin, Maple Leaf Foods, Medtronic, Renesola, Shell Corp, Robert Bosch Venture Capital, Solazyme, and a co-founder of iRobot: See http://www.wave2013.com/keynote_speakers/ for more details.
"We are building on the success of Wave2011 to feature the commercialization of new technologies at Wave2013 as drivers for advances in Clean & Conventional Energy, Health & Medicine including Nano Nuclear, Agriculture & Forestry, and Consumer & Commercial Products," said Ken Brizel, CEO, http://www.acamp.ca
"Our goal is to promote the commercialization of advanced technologies from around the world by supporting businesses and building an international business partnering network that includes local, regional and international SMEs and applied research from the National Institute of Nanotechnology, TR Labs, Alberta Center for Advanced Micro-Nanotechnology Products, Universities of Alberta & Calgary, and other institutions."
Further, Ken Brizel said: "We are strongly committed to building international relationships in Alberta and already have country alliances underway with Finland and Germany, see http://www.albertatechfutures.ca/."
Alberta has funding programs where micro-nanotechnology can be applied for agriculture, food, & forestry, see http://www.bio.albertainnovates.ca/funding/, $ 2 billion available for carbon capture & value added product development projects, including an International Call for Proposals, see http://www.ninesights.com/community/ccemc/grand-challenge, an active Aerospace & Defense Consortium of 170 companies, 6,000 employees with $ 1.3 billion revenue in 2012 – see http://www.albertacanada.com/business/industries/ad-about-the-industry.aspx and with a growing position in drones/UAV technologies.
Alberta Health Services pays $ 11.5 billion/year for health and medical services for the province, including advanced devices, processes, – http://www.albertahealthservices.ca/4122.asp
Alberta has a strong ITC community, with 4,200 hospitals, libraries, schools, government agencies and applied research centers connected with ultra high speed internet, see http://www.servicealberta.gov.ab.ca/albertasupernet.cfm with 800 Mb/s bandwidth.
http://www.acamp.ca – the Alberta Center for Advanced Micro and Nano Product Development provides a range of services to bridge technology from the science or engineering lab to commercial product prototypes and production, enabling business development & partnerships.
Attendees, exhibitors, and speakers from all over the world have the opportunity at http://www.wave2013.com to meet each other, learn about products & technologies relevant to their interests & needs, and plan their participation for the next conference, Wave2015.