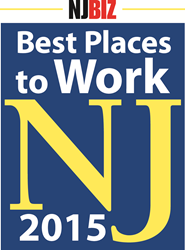 Shrewsbury, NJ (PRWEB) May 05, 2015
Wayside Technology Group, Inc. (NASDAQ:WSTG) today announced that once again it has been named one of the Best Places to Work in New Jersey. This program identifies, recognizes and honors the top places of employment in New Jersey that benefit the states economy, its workforce and businesses.
Were honored to be recognized for the third year as one of the Best Places to Work in New Jersey, said Simon F. Nynens, Chairman and Chief Executive Officer, Wayside Technology Group. Thanks again to our New Jersey employees for their truly positive feedback on our culture and work environment. They tell us that Wayside is a great place to work, and theyre helping us to make it even better!
Companies from across the state entered the two-part process to determine the 100 Best Places to Work in New Jersey. The first part consisted of evaluating each nominated companys workplace policies, practices, philosophy, systems and demographics. The second part consisted of an employee survey to measure the employee experience. The combined scores determined the top companies and the final ranking.
The overall registration and survey process was managed by Best Companies Group (BCG). BCG also analyzed the data provided and used their expertise to determine the final rankings.
Wayside Technology Group and other winning companies were recognized and honored during the NJBIZ Best Places to Work in New Jersey awards ceremony on Thursday, April 30, 2015 at the Hilton East Brunswick.
About Wayside Technology Group

Wayside Technology Group, Inc. (NASDAQ: WSTG) was founded in 1982 and is a unified and integrated technology company providing products and solutions for corporate resellers, VARs, and developers as well as business, government and educational entities. The company offers technology products from software publishers and manufacturers including Acronis, Bluebeam Software, CA Technologies, Dell/Dell Software, ExaGrid Systems, Flexera Software, Hewlett Packard, Infragistics, Intel Software, Lenovo, Microsoft, Mindjet, Samsung, SmartBear Software, SolarWinds, Sophos, StorageCraft Technology, TechSmith, Unitrends, Veeam Software and VMware.
###
The statements in this release concerning the Companys future prospects are forward-looking statements that involve certain risks and uncertainties. Such risks and uncertainties include the continued acceptance of the Companys distribution channel by vendors and customers, the timely availability and acceptance of new products, and contribution of key vendor relationships and support programs. The forward-looking statements contained herein are also subject generally to other risks and uncertainties that are described from time to time in our filings with the Securities and Exchange Commission.