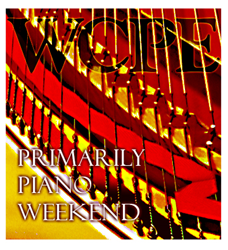 Wake Forest, NC (PRWEB) May 05, 2014
WCPEs Music Director William Woltz announces Primarily Piano Weekend on May 10 and 12, 2014. The program will feature great composers as well as virtuoso performances.
With its vast range of pitch, dynamics and harmonic color, the piano truly is a grand instrument, offers Woltz, who is also Allegro host. Well feature performances from the likes of Vladimir Horowitz and Wilhelm Kempff, plus some of the most exciting pianists of today.
A partial listing includes:
10 Saturday

8:00 a.m. Domenico Scarlatti: Six Sonatas

9:00 a.m. Mozart: Piano Sonata no. 11 in A

10:00 a.m. Bach: English Suite no. 2 in A Minor

11:00 a.m. Rachmaninoff: Piano Concerto no. 2 in C Minor

12:00 p.m. Beethoven: Piano Sonata no. 26 in E-flat (Les Adieux)

5:00 p.m. Gershwin: Rhapsody in Blue
11 Sunday

7:00 a.m. Chaminade: Fairy Tales

11:00 a.m. Mozart: Piano Concerto no. 20 in D Minor

12:00 p.m. Chopin: Piano Sonata no. 3 in B Minor

1:00 p.m. Still: Symphony no. 1 (Afro-American)

2:00 p.m. Schubert: Four Impromptus, D. 899

3:00 p.m. Liadov: Eight Russian Folk Songs

4:00 p.m. Saint-Sa