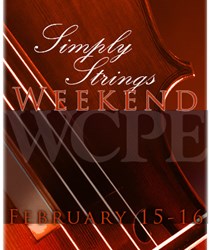 Wake Forest, N.C. (PRWEB) February 08, 2014
WCPEs Music Director William Woltz announces Simply Strings Weekend on February 15 and 16, 2014. The program will feature great composers as well as virtuoso performances.
We explore the variety of instruments with strings, offers Woltz, who is also Allegro host. Featured are the performers who make them go zing.
A partial listing includes:
15 Saturday

8:00 a.m. Beethoven: String Trio in D, op. 9, no. 2

9:00 a.m. Mozart: Concerto in C for Flute and Harp

10:00 a.m. Monn: Cello Concerto in G Minor

11:00 a.m. Vivaldi: Mandolin Concerto in C

12:00 p.m. Bach: Sonata no. 3 in E for Violin & Piano

5:00 p.m. Praetorius: Suite in D from Terpsichore
16 Sunday

7:00 a.m. Mozart: Duo no. 1 in G

11:00 a.m. Dvor