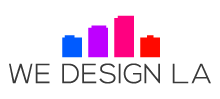 Los Angeles, CA (PRWEB) April 24, 2013
Los Angeles booming Downtown is now home to the areas first full-service digital marketing agency, We Design LA. We Design LA uses digital media to promote Downtown Los Angeles as a destination, while helping Downtown businesses and causes promote themselves online through branding, design, development and advertising.
Husband and wife team Jordan and Leslie Cajilig Manavian founded We Design LA. Jordan Manavian is a serial entrepreneur, tech mogul and the agencys creative director. Leslie Manavians expertise is business intelligence, marketing, operations and sales automation. The Manavians and their core team have been serving Southern California businesses, both large (Fortune 100) and small, for 15 years. They bought property in the Arts District of Downtown Los Angeles long before the area became popular. Today, the Downtown Los Angeles economy is booming, with no sign of letting up. Businesses are flocking to the area to serve the young professionals who are starting to fill the citys high-rise and contemporary condos. We Design LA is already capitalizing on and contributing to — this trend. Our team is excited to be here. We live local, work local, shop local and play local. Were proud to support the many amazing businesses and happenings popping up in Downtown. Our agency is a direct investment in the local Downtown economy, said Jordan Manavian.
As the areas first full-service digital agency, We Design LA specializes in digital technologies. Manavian explains, The best way to put Downtown LA on the map is to put it on the net including social and mobile, of course. The concept for We Design LA is to leverage the Manavians big brand/big client experience and extensive creative and technology toolboxes for local businesses and causes. The goal for each client is to take their brand higher than they could ever imagine. The agencys strategy is to effectively balance intelligent branding, strong design, business automation, and digital advertising (ads, video, social and mobile). Whether they are large or small, new or established, clients benefit from the interaction of these four elements on their brand, not just one tactic.
Being all digital also enables We Design LA to level the playing field for its clients, regardless of their size. Digital is the great equalizer. You dont need a multi-million dollar budget to build your brand and your business with digital media, said Manavian. Through its expert local team of designers, coders, artists, photographers, marketers, and social expert s, We Design LA delivers big agency experiencewithout the big agency price tag.
Were more than a cutting-edge digital agency. Were brand ambassadors on a mission. With each new project, we get to show the world how special Downtown Los Angeles really is, said Manavian. Thats what being a local agency is about. Thats why we founded We Design LA.
About We Design LA

We Design LAs core team and founders have provided design, web, marketing and business services to Southern California business for over 15 years. Despite its success and impressive list of clients, it still is privately owned and operated by Jordan Manavian and Leslie Cajilig Manavian.
We Design LAs founding principles are to always challenge the impossible, to create balanced solutions that perform as well as they look, and most important of all, to empower audiences, companies and causes that are traditionally excluded from cutting-edge technology.
For more information:
We Design LA @ The HubLA

830 Traction Avenue, Suite 3A

Los Angeles, California 90013

Phone: (310) 869-5410

Fax: (866) 5360150

Email: info(at)wedesign(dot)la

Website: http://wedesign.la