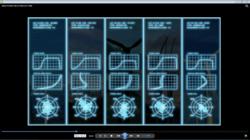 San Diego, CA and Madison, WI (PRWEB) June 04, 2012
Weather Central, LP, is presenting its groundbreaking new Wind Power Yield Forecast (YIELD FORECAST) for the first time in the U.S. at AWEA 2012 at the Georgia Congress Center, Atlanta Georgia in Booth 2950. The YIELD FORECAST system is unique because it has been purpose built for the wind industry, which loses $ 500 million annually as a result of inaccurate forecasts that were not designed to the unique requirements of wind parks.
Weather Central also announces that YIELD FORECAST has begun testing at the Madison Gas and Electric Top of Iowa wind park. Similar tests are underway at multiple wind parks in Europe.
Solid forecasting is essential to mitigating the operating risk of wind parks, said Steve Smedberg, Weather Central senior vice president for enterprise. YIELD FORECAST is simply the most advanced system of its kind, bringing together decades of forecast experience, proprietary high resolution data sets, and advanced computing technology. Our exclusive methods of customizing the toolkit at the level of individual turbines are producing unprecedented forecast precision.
Weather Central YIELD FORECAST will provide wind park operators and utilities with more accurate, actionable predictions for the power output for the following 24-48 hours to help them extract the maximum value from the wind-generated power. YIELD FORECAST specifically addresses the need for operators to predict their output on a day-ahead basis and to prepare responses to real-time fluctuations in output. Globally, poor forecasts are estimated to cost wind operators in excess $ 500 million (U.S.) due to: having to sell excess power at low or negative prices, being forced by shortfalls to buy energy from other sources in the real-time market in order to meet commitments, and having to pay penalties and tariffs imposed on them for inaccurate yield forecasting.
YIELD FORECAST is unique because it is the only solution for the wind energy industry where a single company controls the entire forecast chain. This provides Weather Central with unmatched flexibility to optimize the forecast not just for each wind park, but actually at the level of individual turbines for peak precision. The Weather Central YIELD FORECAST solution combines on-site data feedback and input from the customer with proprietary Weather Central technologies including:

MicroCast numerical weather prediction model
-Advanced neural network and other statistical analysis

DataCloud data serving technology
-Interactive map-based visualization tools
For a complete look at Weather Centrals solutions visit http://www.wxc.com/windenergy.html.
About Weather Central, LP Weather Central, LP, founded in 1974 by broadcasters and meteorologists based in Madison, Wisconsin, is the leading provider of professional onair, online, print, mobile and enterprise weather solutions and forecasting to major customers worldwide. Utilizing the Companys dynamic weather graphics, precise forecast models and data, and patented technology, more than 1000 partners and hundreds of millions of consumers worldwide benefit from Weather Centrals attention to weather presentation, detail and insight.