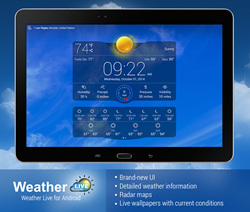 October 22, 2014. New York, New York. (PRWEB) October 22, 2014
Apalon announces the major update of its top-ranked Weather Live app, tweaked and refined for Google Play users. The new version features a massive overhaul of the app UI: everything, from widgets to tiniest UI elements has been redesigned and rethought to bring more enjoyment to the end users.
The app has been optimized to work flawlessly on tablets and other devices with bigger screens. All weather forecasts are accessible in both landscape and portrait orientations.
Weather Live has proved to be a reliable, useful and beautiful forecast app at the same time. By providing extensive weather information and allowing users to customize the layout, it always delivers both outstanding user experience and accurate forecasts. It has also been awarded with prestigious titles in the Best App Ever contest in 2013 in the Weather category and the Tabby Award in 2014 in the Lifestyle category as the Users Choice. Furthermore, the app has been continuously featured on Google Play and holds high rankings in the Weather category.
Weather Live provides current weather conditions and forecasts in multiple locations all over the world. Users can easily check cloud, satellite and rain maps, see feels like temperature, adjust personal widgets and be aware of all weather parameters such as wind direction and speed, humidity and precipitation, visibility details.
The android version is $ 2.99 and available on Google Play in the Weather category.
Were very excited to bring this long-awaited update to the Android users. The new version has been enhanced in terms of UI to provide even better experience of both using an app and getting important weather information. I think user will really enjoy it. commented Alex Karpovich, CMO of Apalon.
About Apalon

Apalon is a leading mobile development company that creates apps for the Apple App Store, Google Play, Amazon Appstore and Samsung apps. The unique blend of passion and skills that make up the companys DNA, enables Apalon to deliver unrivaled products to the end users. Apalon's portfolio includes award-winning titles such as Pimp Your Screen, Weather Live, My Alarm Clock, Calculator Pro and more.