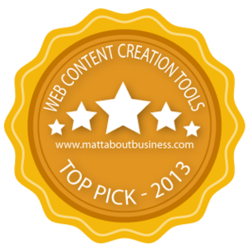 Deerfield, IL (PRWEB) January 14, 2013
Matt About Business is proud to announce the winners of the first annual Web Content Creation Tools Top Picks award. The award recognizes the best solutions available for creating different types of web content.
"The irony of content marketing is that the key element, web content creation, is the greatest obstacle to success," explains Matt Mansfield, President of Matt About Business. "Aside from the stage fright many folks feel when thinking about others reading their posts, listening to their podcasts or watching their videos, its easy to get overwhelmed when choosing the tools to use for creating web content."
To combat this obstacle and make effective content marketing more accessible to all, Mansfield decided to create the annual Web Content Creation Tools Top Picks award. Winners of the award are selected based on the features, functionality and ease-of-use of their content creation solution.
"How do you know that these are the best content creation tools?" asks Mansfield. "Because after trying many similar solutions, these are the tools I use to create content for my own sites."
The Web Content Creation Tools Top Picks awards are given in eight categories, each one focusing on a different type of web content. The winners for each category in 2013 are:
Category: Websites and Blogs

Winner: WordPress
Category: Downloadable Documents

Winner: Adobe Acrobat
Category: Videos

Winner: Camtasia
Category: Webinars

Winner: GoToWebinar
Category: Infographics

Winner: Piktochart
Category: Social Media Updates

Winner: HootSuite
Category: E-Mail Marketing

Winner: AWeber
Category: Online Courses

Winner: Udemy
For more information on why each winner was selected, and for a list of runner-ups in each category, visit: http://www.mattaboutbusiness.com/web-content-creation-tools-top-picks-for-2013/
About Matt
Matt Mansfield is a recognized expert in designing and implementing web content and e-mail marketing strategies that consistently drive targeted website traffic and increase sales.
Matt also creates powerful content to be used in online and e-mail marketing campaigns.