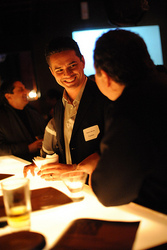 (PRWEB) April 19, 2010
The Web Host Industry Review (http://www.thewhir.com), the leading resource for information on the web hosting industry, is excited to report that it has seen tremendous response so far in 2010 to its WHIR Networking Events (http://www.whirevents.com), a series of free technology industry events scheduled to take place in 10 locations around North America.
An extension of a series of nine events held in 2009, the WHIR Networking Events 2010 calendar began with events in Los Angeles, Houston and New York, and will continue to Chicago, Toronto, Boston, Denver, Phoenix, Washington DC and Vancouver.
We had tremendous success with our networking events in 2009, during a time of less-than-ideal economic circumstances, and tons of great feedback from attendees, says WHIR publisher Stephen Mayhew. Were very excited to be able to reach some of the markets we werent able to get to in 2009, and provide them with what we believe is a valuable resource for the hosting community, and an opportunity for technology users and suppliers in related fields to access that hosting community.
Presented in casual environments, with a cocktail party atmosphere, WHIR Networking Events provide technology executives and decision makers with a venue to make the kind of in-person connections that arent ordinarily possible outside of the small number of major industry events scheduled each year. They are designed to contribute to a sense of local community within the hosting business.
Turnouts were excellent for the first three events of the year to date. Because hosting is a widely distributed business popular among resellers and small business technology providers, there is a large local market of hosting providers in most major cities, and a great representation of hosting business owners and executives at WHIR events.
The concentration of hosting businesses an excellent channel for the distribution of technology products and services makes the WHIR Networking Events a perfect venue for the creators of those services, many of which have seen great success participating in sponsors at the events. The list of active sponsors includes OpenSRS, The Planet, Hosting.com, eNom, Latisys, and Telx.
"We're both excited and proud to be the title sponsor for all ten WHIR Networking Events in 2010, " says Le Quan Truong, director of marketing at OpenSRS, which has signed on as a title sponsor for the full series of 2010 events. "These events provide a great venue for people in the hosting and domains industries to get together and they foster conversations and friendships that ultimately work to move the industry forward as a whole."
The concentration of hosting industry knowledge and casual, cocktail party atmosphere make the events a great opportunity for web site operators, small businesses, or investors looking to find out more information about the hosting business in an informal setting.
WHIR Networking Events are free to attend, and furnished with free food and drinks, thanks to the generous support of their sponsors.
The next WHIR networking event will take place in Chicago, on Thursday, April 22, 2010, from 7:00 p.m. until 10:00 p.m., at Martini Park restaurant and lounge. More information about the event and venue, including directions, is available at http://www.WHIRevents.com. Anyone wishing to attend the event must submit a free registration at the website.
Since 2000, The Web Host Industry Review (http://www.thewhir.com) has made a name for itself as the foremost authority of the Web host industry providing reliable, insightful and comprehensive news, reviews and resources to the hosting community. TheWHIR Blogs (http://www.thewhir.com/blogs) provides a community of expert industry perspectives. The Web Host Industry Review Magazine (http://www.thewhir.com/magazine) also offers a business-minded, issue-driven perspective of interest to executives and decision-makers. WHIR TV (http://www.thewhir.com/tv) offers on demand web hosting video interviews and web hosting video features of the key persons and events of the web hosting industry. WHIR Events (http://www.whirevents.com) brings together like-minded hosting industry professionals and decision-makers in local communities.
###