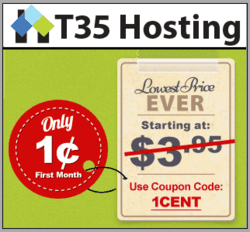 Little Ferry, New Jersey (PRWEB) August 22, 2012
T35 Hosting ( http://www.t35.com ) has been in business since 1997. It was started by Alex Melen, a then high school student in the suburbs of New Jersey. During Mr. Melens tenure, he has seen hundreds of web hosts come and go. T35 Hosting itself went through its fair share of changes. It first started as a list of top websites, which is also where it got its name. It then became a free web hosting provider which was discontinued in 2011 after a uprising of malicious activity through the free platform. It has now morphed to our full web hosting provider with services ranging from budget hosting to dedicated servers for enterprise.
The internet and web hosting industry has dramatically changed since T35 Hostings inception in 1997. To remain competitive in this new landscape, T35 Hosting has released a coupon that discounts the first month of web hosting to $ .01.
When asked how this new initiative will bring in revenue, Mr. Melen answers, It will not and quite frankly, we are taking a big loss on this. The hope is that these customers will stay for several years. I still have customers that have been with me since 1997. The level of customer care we offer, and the loyalty our customers show in return well thats why we are in business now while so many others having faded away.
This is not the first time that a web hosting company has released such a promotion. Web hosting provider HostGator is known for its lucrative coupons and also had a $ .01 offering at one time. HostGator has since been bought out by web hosting conglomerate Endurance International Group (EIG). It no longer offers its $ .01 offering, leaving T35 Hosting to rack up all the bargain hunters.
Competing with the big guys has been hard, Mr. Melen admits. When someone calls our support line, they either get me or my assistant. When someone calls a competitors support line, they get redirected offshore. While the competition is cutting costs, Mr. Melen hopes that his commitment to customer service will be his ultimate edge. And now that T35 Hostings new promotion makes them also the cheapest solution, the decision should be a no brainer.
T35 Hostings $ .01 Promotion can be used in its cPanel Hosting solution. Enter 1CENT in the checkout screen and choose Monthly to take advantage of this promotion.