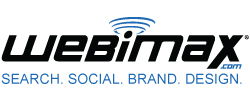 MOUNT LAUREL, NJ (PRWEB) April 23, 2013
Kenneth C. Wisnefski, founder and CEO of WebiMax, a leading online marketing firm, is pleased to announce the appointment of Michael Gurzo as Chief Financial Officer. As CFO, Michael Gurzo will pull from his experience with companies like Dancker and Lutron to help WebiMax continue to grow and thrive in the Internet marketing industry.
"The appointment of Michael Gurzo as Chief Financial Officer is an essential element to the continued growth and success of WebiMax," stated Kevin O'Brien, COO and Principal. O'Brien continued, "Michael's passion for finance not only provides accurate and timely reporting, but a strong sense of direction for our brand. And, what's exciting for our current and future clients is, our growth is all contingent on continuing to provide the best service in the search engine marketing field."
Gurzo comes to WebiMax after spending more than four years as the CFO of Dancker, Sellew & Douglas. During his time with Dancker, he was tasked with the oversight of IT, accounting, finances, credit and operations. His success in this role made him the perfect fit for Inc. 500 Magazine's 37th fastest growing private organization of 2012.
"With a three- years sales growth of 5,651 percent, a lot of companies may grow complacent, but our company has no plans of slowing down. Appointing Michael Gurzo as CFO will help ensure WebiMax continues to extend our reach and help even more companies with their search, social, brand and design efforts," said Wisnefski.
About WebiMax:
Led by serial web entrepreneur Kenneth Wisnefski, WebiMax has become the leader in online marketing services. The company focuses on: Search Engine Optimization, Search Engine Marketing, Paid Search, Social Media, Website Design and Development, Reputation Management, and more. WebiMax was named to the 2012 Inc. 500 (No. 37 overall) and was also selected as one of Americas Most Promising Companies (2011) by Forbes Magazine (No. 30 overall). The company employs over 125 personnel in 12 offices including 8 U.S. based, and 4 International. Visit http://www.webimax.com/ for more information.