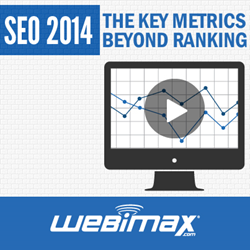 Mt. Laurel, NJ (PRWEB) April 02, 2014
On April 15th, 2014 at 2:00 EST, WebiMax will be hosting a webinar called SEO 2014: The Key Metrics Beyond Rankings in response to recent changes in search engine algorithms. During the webinar, business owners and marketers can expect to learn about changes that have shaped the SEO industry, how the changes affect SEO strategy, and how to identify key metrics for reporting successes.
The first part of the webinar will be presented by WebiMaxs VP of Strategy & Consulting, Mike Puzo, who will provide a background of Google algorithm updates including Panda, Penguin, and Hummingbird. Its important to understand the basics of each update and how they affect search results before you can create an effective strategy, Mike explains. He continues, Im excited to share our research and knowledge with business owners and marketers who will benefit most from the webinar.
WebiMaxs Director of SEO Project Management, Chris Surovick, will present the ways these changes affect SEO strategy. I am looking forward to explaining what a successful digital marketing campaign looks like in 2014, Chris says. Its our job to stay on top of the latest and greatest tactics and to uncover the ways to report on them. Were happy to share that information with the webinars attendees.
The webinar will include information about the diminishing importance of individual keyword rankings in favor of organic traffic volume, conversions from organic traffic, referral traffic and assisted conversions, and domain authority.
To learn more or to sign up for the SEO 2014: The Key Metrics Beyond Rankings webinar, click here.
About WebiMax

A leader in online marketing, WebiMax provides Search Engine Optimization (SEO), Paid Search, Social Media, Website Design & Development, Reputation Management, and Consulting services for hundreds of clients in dozens of industries. Led by serial entrepreneur Kenneth Wisnefski, WebiMax employs over 100 employees in 4 locations including its headquarters in Mt. Laurel, NJ as well as New York City, Sydney, and London. WebiMax ranked highly on the 2012 & 2013 Inc. 500 and was also selected as one of America's Most Promising Companies by Forbes Magazine. For more information, visit http://www.webimax.com.