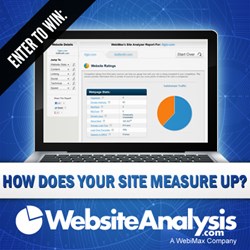 Mt. Laurel, NJ (PRWEB) February 18, 2014
WebiMaxs Website Analyzer tool helps businesses identify key SEO metrics and provides a side-by-side comparison of competing websites. Anyone who meets the eligibility requirements and uses the tool between February 17th and March 16th will be automatically entered to win a free press release. One lucky winner will be chosen and announced via the websiteanalysis.com blog on St. Patricks Day (March 17, 2014).
The Website Analyzer tool was designed and developed by WebiMax to provide website owners comprehensive data on key SEO metrics including website rankings, keywords, linking, social media, technical, and speed. Users can also select a competitor to analyze to see how they measure up. The Analyzer provides an instant report based on aggregated data as well as a proprietary crawling process that can be delivered to the inbox of the email address provided.
With St. Patricks Day right around the corner, we wanted to sweeten the pot for people who use our Analyzer tool, Sean ODonnell, WebiMax Chief Technology Officer and Principal, explains. Were happy to use our resources and expertise to write and distribute a free press release on behalf of our winner to help promote their own brand.
WebiMax is allowing one entry per person, and the winner must be 18 or older and include a valid company, name, email address, and phone number. Users who share their report or share WebsiteAnalysis.com will receive a second entry. The winner will be randomly selected from all unique entries and published on the websites blog on March 17th.
For more information, visit the WebsiteAnalysis.com blog or http://www.webimax.com.
About WebiMax:

A leader in online marketing, WebiMax provides search engine optimization (SEO), paid search, social media, website design & development, reputation management, and consulting services for hundreds of clients in dozens of industries. Led by serial entrepreneur Kenneth Wisnefski, WebiMax employs over 100 employees in 4 locations including its headquarters in Mt. Laurel, NJ as well as New York City, Sydney, and London. WebiMax ranked highly on the 2012 & 2013 Inc. 500 and was also selected as one of America's Most Promising Companies by Forbes Magazine. For more information, visit http://www.webimax.com.