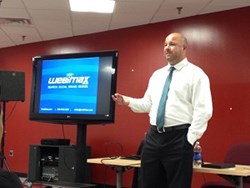 Camden, NJ (PRWEB) October 23, 2013
President and Founder of WebiMax, Kenneth Wisnefski, spoke to aspiring professionals at Rutgers Camden last Thursday. In a presentation entitled How to Become a Success in your Chosen Profession, Wisnefski shared what he has learned during his 15+ years of experience as an entrepreneur.
Wisnefskis company, WebiMax, was revealed as one of NJBIZs 50 fastest growing companies in 2013. As one of those companies, WebiMax hires many South Jersey workers to entry-level positions. Ken strongly believes that each individual at his company should have a chance to work their way up the corporate ladder. Wisnefskis message during his presentation to the students of Rutgers Camden highlighted the incredible opportunity entry-level jobs provide.
Whether its the Internet marketing industry or any other given profession, Wisnefski believes the current job market makes entry-level positions more important than ever saying, A lot of students are worried about whether or not they will be able to find a job in this economy.
Wisnefski continued, With competition as high as it is, entry-level workers must be willing to go the extra mile to show that they not only belong at a company, but are interested in becoming an asset to their new employer for years to come.
As a former participant in career fairs at the University, Ken and WebiMax have many Scarlett Knights currently working in entry-level positions with the company. Employer Relations Manager of the Career Center at Rutgers Camden, Lynn Shultz, coordinated Kens presentation. Schultz explained the anticipation of the event and the Universitys relationship with WebiMax saying, The students were excited about him being there and we are excited to continue the relationship with him and WebiMax.
About WebiMax:
Led by serial web entrepreneur Kenneth Wisnefski, WebiMax has become the leader in online marketing services. The company focuses on: Search Engine Optimization, Search Engine Marketing, Paid Search, Social Media, Website Design and Development, Reputation Management, and more. WebiMax was named to the 2012 Inc. 500 (No. 37 overall) and was also selected as one of Americas Most Promising Companies (2011) by Forbes Magazine (No. 30 overall). The company employs over 125 personnel in 12 offices including 8 U.S. based, and 4 International. Visit http://www.webimax.com/ for more information.