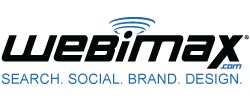 MOUNT LAUREL, NJ (PRWEB) August 22, 2013
Inc. magazine recently ranked WebiMax, a leading online marketing firm founded in 2008, No. 104 on its 32nd annual Inc. 500, an exclusive ranking of the fastest-growing private companies in the United States. WebiMax is no stranger to the famed list; just last year, the company was ranked No. 37 in its first year of eligibility.
"For the second year in a row, WebiMax is thrilled to be included in this list and placed among the nations top tier of private organizations experiencing tremendous growth," said Kenneth Wisnefski, Founder and CEO WebiMax. "What started as a small start-up with 4 employees has now grown to a nationally and internationally recognized search engine marketing firm, operating in 4 countries and employing over 125 personnel."
The full 500 list will be released in the September 2013 issue of Inc. magazine. To be eligible to be included in the Inc. 500 list, companies must have been founded and generating revenue by March 31, 2009. Additionally, they had to be U.S.-based, privately held, and independentnot subsidiaries or divisions of other companiesas of December 31 of the last year measured. Revenue in 2009 must have been at least $ 100,000 and in the most recent year, must have been at least $ 2 million.
With a 3,367% 3-year growth and revenue of $ 8.4 million in 2012, WebiMax has strong plans for the future. "Our continued growth plans include developing new digital channels around our emerging brands focused on specific verticals, such as the legal industry with our LegalMarketing.com and internationally with our UK based Social.co.uk which will be launched in the Fall of 2013 to capture the expanding social media market abroad," said Kevin O'Brien, COO and Principal of WebiMax. "I look forward to continued success in the future."
About Inc.

Inc. magazine, founded in 1979 and based in New York City, is a monthly publication focused on growing companies. The magazine publishes an annual list of the 500 fastest-growing private companies in the U.S., the "Inc. 500." Inc. is the only major brand dedicated exclusively to owners and managers of growing private companies, with aims to deliver real solutions for todays innovative company builders. The total monthly audience reach for the brand has grown to over 6,000,000 today. For more information, visit http://www.inc.com/500.
About WebiMax

Founded in 2008, WebiMax has become the leader in online marketing services, including Search Engine Optimization, Search Engine Marketing, Paid Search, Social Media, Website Design and Development, Reputation Management, and more. The WebiMax team brings years of Internet marketing experience and proven results to help clients succeed online. Additionally, the WebiMax team is constantly evolving and adapting its best practices to parallel search engine standards for SEO and Internet marketing.
Led by serial web entrepreneur Kenneth Wisnefski, WebiMax was named to the Inc. 500 two years in a row and was also selected as one of Americas Most Promising Companies by Forbes Magazine (No. 30 overall). The company employs over 125 personnel in 12 offices including 8 U.S. based, and 4 International. Visit http://www.webimax.com/ for more information.