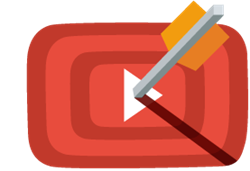 Charlottesville, VA (PRWEB) September 18, 2013
With over 1 billion unique visitors every month, YouTube is technically the second largest search engine in the world, making its paid advertising options an attractive possibility for marketers. Additionally, according to MarketingProfs, 81 percent of senior marketing executives use online video content as part of their marketing strategy. Search engine marketing agency Search Mojos Tad Miller and Blaine Anderson will be presenting a webinar, Leveraging YouTube for Online Marketing Success, where they will be discussing how marketing professionals can get more value from their video marketing with YouTube. The webinar will be held September 19, 2013 at 2 p.m. ET.
YouTube has some relatively new paid advertising opportunities available to help companies gain more exposure for their videos and brand, said Anderson. Ill be demonstrating the different ways marketers can promote their existing YouTube videos to engage potential customers and generate more top-of-funnel leads.
Search results that contain videos have a 41 percent better click though rate than those without videos, said Miller. So its also very important to understand how to optimize your YouTube videos on your website so they can be found on Google. said Miller.
To register for the webinar, go to http://www.search-mojo.com/youtube.
About Search Mojo

Search Mojo specializes in search engine marketing, social media advertising, content marketing and analytics services. Founded in 2005, Search Mojo uses the latest information and techniques to help companies improve their conversions and lead generation through search and social tactics. Learn more about Search Mojo at search-mojo.com or read our blog, Search Marketing Sage, at blog.search-mojo.com.