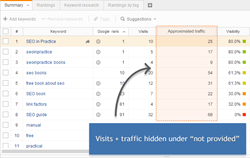 San Francisco, CA (PRWEB) January 17, 2014
WebMeUp, a spirited tech startup and the provider of online SEO software of the same name, announced that its team has developed an in-house formula for the calculation of Approximate traffic data. It will show the number of visits for the chosen keyword, including the not provided results.
*What not provided problem is about*
Professional SEOs and site owners heavily rely on keyword data which lets them see how well a website performs in organic search, and helps them make data-driven decisions. However, in 2011, in the name of privacy Google began to hide the keyword data it sent to websites from its result pages. And today visits coming from secure search pages (those starting with httpS://) appear in Google Analytics under the label not provided, instead of the actual search term. The percentage of not provided keywords has already reached 70% and is steadily growing.
*The Not provided Solution by WebMeUp*
The solution developed by WebMeUp team is based on the analysis of the following data: