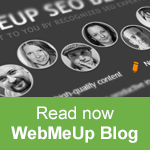 San Francisco, CA (PRWEB) January 23, 2014
WebMeUps Internet marketing blog is developed for SEOs promoting their own sites and those who do expert SEO large-scale. It will provide meaningful content and bring change to professional life of SEOs. The blog will be out five times a week, sharing content from both team members, including WebMeUps CEO, and recognized industry experts.
"I am very happy that now we are able to reach out to our users through a blog as well. In the pool of multiple SEO content platform, our mission is to grow a remarkable blog, finding the right content to resonate with readers, and making a noticeable difference in the SEO community, says Alexandra Shkalikova, Communications Manager, WebMeUp.
The blog will feature only meaningful high-quality content which will help our users become more productive in growing online traffic and keep up with the latest industry trends. We welcome all users to join us on this new chapter of WebMeUps journey, continues Alexandra.
*WebMeUps Blog*

WebMeUps Internet Marketing blog is available to everyone at http://webmeup.com/blog/. Currently featured topics include Google+ Hangouts, local SEO, tips for a SEO job interview and CEO talking. The blog is co-written by several authors, including recognized industry experts like Kristi Hines @kikolani, Joel Klettke @JoelKlettke, James Chartrand @MenwithPens and Tom Ewer @tomewer.
The primary goal of the blog is to be a relevant and engaging online community where readers and contributors have a collaborative, open, and transparent environment to share their SEO views and expertise. The blog will feature a wide variety of SEO and SMM topics and discussions and provide users with an opportunity to get to know more about WebMeUps projects, initiatives and staff.
New posts will be added 5 times a week and will supplement the companys efforts on Facebook fb.me/WebMeUpSEO, Twitter @WebMeUpSEO and Google Plus gplus.to/WebMeUp.

Besides, readers can subscribe and receive email updates when new articles are posted.
*Other WebMeUps coming features*

WebMeUps team has a number of other crucial improvements in the pipeline: