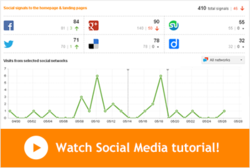 Minsk, Belarus (PRWEB) June 05, 2013
WebMeUp, a spirited IT startup and the company behind the same-name online SEO software, announced this morning the release of a video on analyzing social media metrics. The video explains how exactly SEOs can use WebMeUp social media module to its fullest to make data-driven decisions and thus successfully integrate social media into their SEO strategy.
*SEO and social*
These days SEO and social go hand in hand: social media is the most natural way to get organic links. It is particularly vital in the face of the just-out Penguin 2.0, when the most robust strategy seems to be creating helpful content and promoting it in social media to get most natural links.
But how exactly it can be done? Are all social media outlets equally efficient? How do promoters find that social media efforts result in traffic gains?
These are the questions addressed in WebMeUp's video on making better social media decisions. The video is available at http://webmeup.com/social-media.html#social-media-video.
"We're really excited about releasing this video because it will let our users apply WebMeUp's social media module to its fullest and make sure they squeeze as much as they can from both social media and WebMeUp," says Alexandra Shkalikova, Communications Manager, WebMeUp.
"That said, the video will be of interest to all web promoters, even beyond WebMeUp customer community: you'll be surprised what you can actually tell by looking at tweets, likes and shares," continues Alexandra.
To stay tuned for more how-to video on data-driven web promotion, users can subscribe to WebMeUpSEO Youtube Channel. They can also connect with developers on Twitter @WebMeUpSEO, Facebook fb.me/WebMeUpSEO and Google Plus gplus.to/WebMeUp.
*About WebMeUp*
Released in January 2013, WebMeUp is online SEO software for internet marketers with a strong focus on technology, usability and modern SEO trends. Users can fully rely on WebMeUp for speedy access to all SEO metrics in a convenient dashboard. Free 15-day trial is available at the company's official website http://webmeup.com/.