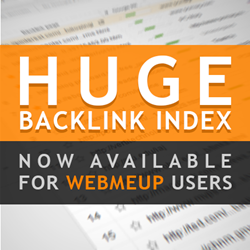 Minsk, Belarus (PRWEB) July 25, 2013
WebMeUp, the software house behind online SEO tools with its own fast-growing WebMeUp backlink index, announced today the release of a complete checklist and help videos on best practices of backlink management. This help content will show users how exactly they can track and manage their sites links, as well as find new backlink opportunities.
*Why manage backlinks?*
Online visibility of a website largely depends on the number and relevancy of links that point to this site. The more great backlinks a site has, the higher it ranks in Google. Poor backlinks, in their turn, drag sites down to the bottom of search results. Thus, webmasters need backlink management to see where they excel and where theyre vulnerable in terms of SEO.
*WebMeUps 5-step actionable backlink plan*
There are 5 simple steps WebMeUp users need to take to make sure the backlinks are fully natural and search engine rankings are not in danger. Details are available at the official website.
*3 help backlink videos from WebMeUp*
(1) Find and analyze your sites backlinks

(2) Track and manage your backlinks in WebMeUp

(3) Find new backlink opportunities
This backlink video series from WebMeUp will teach you the core principles of backlink management.
"Having a spotless backlink profile is particularly vital now, in post-Penguin 2.0 era: you absolutely need to make sure nothing threatens your high search engine rankings," says Alexandra Shkalikova, Communications Manager, WebMeUp.
"Last week we released a powerful backlink index of our own, meaning that now WebMeUp delivers times more backlink data. It takes certain time and skill to analyze all of your links and spot the ones that put your rankings at risk. Thats why weve prepared simple and actionable recommendations to help you with this challenging task," explains Alexandra.
"Depending on your current WebMeUp plan, you can track from 25,000 to 25,000,000 backlinks totally. Check WebMeUp pricing plans and pick the best option for yourself," continues Alexandra.
Not a WebMeUp user yet? Register for a free 15-day WebMeUp trial and choose a WebMeUp pricing plan that best satisfies your SEO needs.
For further updates, follow WebMeUp on Twitter @WebMeUpSEO, Facebook fb.me/WebMeUpSEO or Google Plus gplus.to/WebMeUp.
About WebMeUp
WebMeUp is an IT startup behind WebMeUp online SEO tools. The software supports the fullest web optimization cycle: from keyword and backlink research to social signals and advanced reporting. Unique from the technology standpoint, WebMeUp provides more fresh and current data at a lower price, compared to other players in the market.