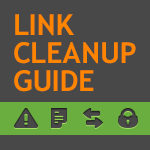 San Francisco, CA (PRWEB) March 28, 2014
WebMeUp, a software house focused on developing advanced cloud products for internet marketers, published an ultimate guide to protecting online presence from link penalties. One week earlier, WebMeUp released a new link cleanup feature that lets users detect dangerous links and take immediate actions to remove them and enjoy a safer backlink profile. This feature has become a powerful addition to a comprehensive set of WebMeUp functions for web optimization: from funding the right keywords and improving site structure to crafting a safe backlink profile.
*What is Google link penalty about?*

In its attempts to purify search results, Google keeps toughening rules for site owners and SEOs: practices that seemed legit and widespread a while ago work no longer. Though Google is believed to take into account hundreds of ranking factors when ranking sites, links count most, having the power to rise a site up in SERPS or have it out of the Google game completely.
*Link cleanup guide contents*

Here are the steps the guide takes you through to assist in bad links detection and management:

(1) Detect high-risk backlinks

(2) Create a disavow file

(3) Sort out suspicious links

(4) Protect trusted links
It appears that Google webspam team is now inspecting each sites backlink profile with a giant magnifier, ready to penalize even long-established players for questionable links, says Alexandra Shkalikova, Communications Manager, WebMeUp.
In the current search environment, site owners simply cant afford to sit and wait. Whether theyve been hit by Google link penalty or not, site owners need to know their links in and out to see if theyre safe. Powered by the ultimate link cleanup guide released today, WebMeUps link cleanup feature is your one-stop-shop to assist in this matter and ensure you dont lose in rankings, traffic and sales, continues Alexandra.
Anyone keen on running a link safety check for their sites, can sign up to WebMeUp and make use of a free 15-day trial.
About WebMeUp

Founded in 2012, WebMeUp has evolved from a spirited IT startup to a mature tech company with a dedicated team and reliable products, including all-in-one web SEO software, a free backlink tool and an SEO API. Two months ago, the company launched WebMeUp blog, which is updated daily with articles featuring SEOs and written for SEOs and exclusive columns by recognized digital marketing experts. More information about WebMeUp is available at the official site webmeup.com.