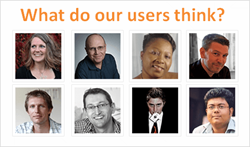 San Francisco, CA (PRWEB) October 03, 2013
WebMeUp, an internet marketing software house and the company behind the app of the same name, revealed 5 features of their users' choice. The data provided in WebMeUp users' survey will be of interest to everyone who promotes websites online. Small business owners, in-house SEOs and SEO consultants will be curious to know if they are efficient with their SEO activities and look to automate the same tasks as WebMeUp users do.
Top 5 features chosen by WebMeUp users include:
(1) All-in-one feature rich SEO app
"What I mostly like is the reasonable price and you get all tools in one place. Daily up and down keywords tracking, backlinks service, and complete competition analysis. With data imported from Google Analytics, you can see which keywords bring most traffic, the keyword bounce rate, etc. Adding keywords from Analytics is a super feature! WebMeUp is worth every penny, all tools under one roof!" says DavidB, Dotkomp service inc.
(2) Speed and ease of use
"I'm working with a bunch of SEO tools. So what makes WebMeUp a valuable addition for me? With other tools, I'm drowning almost in SEO data, spending often too much time to find the real important stats. WebMeUp gets it right from the start in focusing on the most important aspects. I like its speed, especially if you had to deal with several projects," testifies Frank Limbacher, Limstyle webdesign.
(3) Profound on page optimization and site audit
"I've been using SEO tools for years but WebMeUp is really impressive. It's very easy to use when looking at competitors and i just love the way page optimization works. All in all, this must be one the best SEO tools I've tried so far," Thomas Andersen, TAmedia Aps.
(4) Competition tracking and reports
"I came across this one morning whilst reading my daily SEO blogs. Paying for a lot of SEO software, I decided to give the site a look as the review was very bland and not at all in depth. Within 5 minutes, I have over 100 keywords loaded and 10 competitors being tracked. I feel like I can now see, hear and smell every move my competitors make! Whether it be indexing new pages or creating new backlinks, I know how to counter attack my competitors' SEO campaigns whilst keeping track of the SEO improvements on my own site. This software is more than good, it's lethal!" suggests Tom London, Tom London Magic.
(5) Support and Community
"I was surprised that the keywords I thought were solid were actually poor (laughing here sadly) – after I typed in them, it showed me that the competition we were against is actually the huge 37 million!
It's really a great place, and I am drawn to this website more than others because the design is so 2.0 here and also has a community with like-minded people. Can't wait to start getting real good at this and see some results and I am sure I will!" explains Maxim, Qlarity.
Suggestions on tasks to automate in SEO routine and feedback from people who optimize sites on a daily basis, be it their own or their clients' or employers' sites, are available at http://webmeup.com/users-choice.html.
All the features suggested by WebMeUp users can be tested during the free fully-functional trial available at the official site webmeup.com.
Have other features to suggest as more crucial? Reach out to developers via Twitter @WebMeUpSEO, Facebook fb.me/WebMeUpSEO or Google Plus gplus.to/WebMeUp.
About WebMeUp

WebMeUp is a tech company that offers a variety of services and tools, including WebMeUp SEO software, WebMeUp backlink index, free WebMeUp backlink tool, WebMeUp SEO API, catering for both businesses and individual users. The company's mission is to provide most accurate data for smart web optimization. More information about WebMeUp is available at the official website webmeup.com.