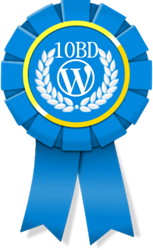 San Francisco, California (PRWEB) June 12, 2014
WordPress is a powerful, reliable, and simple publishing platform that allows independent authors, small business owners, and corporations to connect with their customers via an organized online presence. Although this open source content management system is free to use, most companies do not know how to take full advantage of WordPress and reach their consumers through customized design.
Thankfully, though, there are a wide variety of website design companies that create WordPress themes, plug-ins, and custom websites for people looking to utilize this effective tool. The following four WordPress website design agencies were ranked as the best WP design firms in the United States by 10 Best Design (10BD). 10BD's awards are seen by hundreds of thousands of people each year and are extremely coveted by web design companies, online marketing firms, and other forms of digital agencies.
Big Drop Inc. is one of the best WP web design companies in the United States. This New York City-based company employs a number of designers who are well-versed in the WordPress platform. In fact, the company has created unique WP themes for companies like We Buy Cars Here, Develop Senegal Company, US Car Buyers, Yeffet Mesika Enterprises, and Gravity Videos. Big Drop has also helped clients utilize WPs mobile services, giving customers around the world the opportunity to view unique WordPress themes from their smartphone screens.
Another New York City web development firm that is popular for its WordPress services is Blue Fountain Media. Blue Fountain understands that an easy-to-navigate WordPress page that is also engaging helps generate brand recognition for clients. Blue Fountain believes that brands with a well-developed WordPress presence have more success attracting customers to purchase their products or services. The agency's team of web writers regularly provide WordPress blog posts for companies who do not know how to use search engine optimization techniques in their blog posts.
CliKZY Creative is one of the best website design companies for people in need of WordPress development services in Washington DC. In the past, CliKZY has built customized WP templates for clients like Chromis Event Strategies, Aetos Capital Real Estate, Deal Flow, and Agency Coulter. CliKZY Creative regularly hosts WordPress training seminars where one of the firms top WordPress designers teaches a number of WP-related tutorials. However, for organizations and companies who are too busy to attend one of these training courses, ClilKZY Creative also designs mobile WordPress pages and web-friendly WP blogs in-house.
Based in Redondo Beach, California, Isadora Design creates hand-crafted WordPress pages for all of their clients. The agencys software designers are well-versed in WPs software platform. The designers use this expertise to alter WP's code to fit any design request a customer has.