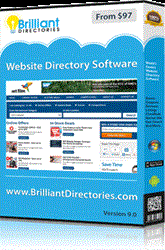 Santa Monica, California (PRWEB) November 25, 2013
A recent survey shows that directory software solutions can be had for as low as $ 20, while the cost to license heavily favored Brilliant Directories currently peaks at $ 497 per month.
Brilliant Directories is a cloud-based directory software that enables website owners, private organizations and entrepreneurs to publish directory-driven websites.
Despite higher price-points, consumers still favor Brilliant Directories mainly because of its user-friendly interface and complete suite of management tools.
Members see value in the overall service, said Brilliant Directories Co-Founder Jason Haloossim. Compared to hiring an expensive web developer or investing sleepless nights building something on your own, Brilliant Directories launches your complete vision in a matter of days. This allows you to quickly monetize on your investment – priceless!
Included with each Brilliant Directories plan is setup of the directory itself, technical support, software training and marketing guidance.
Features also include advanced reporting, a fully integrated CRM, email marketing tools, easy to use CMS, a seamless SEO Center and built-in Payment Processing.
——
About Brilliant Directories: Brilliant Directories believes that directory software should be versatile, accessible and easy to use. Founded in 2009, Brilliant Directories powers thousands of directory websites with millions of users worldwide — from local organizations to global enterprises. Visit http://www.BrilliantDirectories.com to learn more.