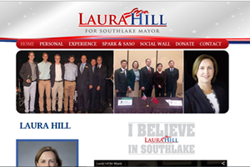 (PRWEB) March 02, 2015
As residents and business owners in Southlake, Texas, i5 web works co-founders, Michael Burns and Carita Weaver, believe in supporting local organizations and causes. In addition to working with the Southlake Chamber of Commerce, Carroll Independent School District and numerous non-profits, i5 web works recently launched a website for Southlake mayoral candidate Laura Hill: http://www.LauraHillforSouthlake.com.
A primary communications tool for Hills campaign, the website combines images, videos and interactive features with the most advanced responsive technology to ensure it displays properly on multiple devices including desktops, tablets and smart phones.
Developed and hosted by i5 web works, the custom website provides information about Hills professional experience, community service, awards, and family. In addition, a section is dedicated to two organizations Hill co-founded: Students and Parents Against Risks to our Kids (SPARK) and Scholars and Athletes Serving Others (SASO). A social wall offers feeds to Hills Facebook, Twitter, LinkedIn and Instagram feeds. A newsletter sign-up is located on each page and online donations to Hills campaign can be made via the website.
i5 web works developed a website for me that has really become my brand, stated Hill, who currently serves on the Southlake City Council as mayor pro tem. In a political race, your website is often the first contact voters have with you. I am so proud of my website and i5s ability to take my random ideas and create a website that is me.
i5 web works is an award-winning internet marketing agency specializing in responsive website design, email marketing, videos, social media and search engine optimization. For more information about i5 web works internet marketing services in Dallas Fort Worth, go to http://www.i5ww.com or call 888-893-7519.
About i5 web works
i5 web works is an Internet marketing agency in Dallas Fort Worth. Founded in 2001, partners Michael Burns and Carita Weaver have a combined 30 years experience in developing and managing online marketing strategies for businesses in a broad range of industries. Our services, available individually or as a comprehensive program, include search engine optimization, Internet advertising, social media, email marketing, domain registration, and website design, maintenance and hosting. Creating an Internet presence requires an in-depth understanding of natural search engine optimization techniques and supporting Internet marketing programs. We work with all types of businesses and help them successfully navigate the Internet to bring new customers through the door — our motto is Be Found!