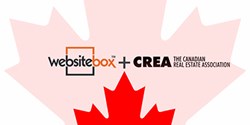 Toronto (PRWEB) July 18, 2013
WebsiteBox, an award-winning creator of full-featured real estate websites for a one-time charge of $ 99, has announced the Integration of CREA (Canadian Real Estate Association) to its mobile-friendly website platform. The CREA MLS Integration is part of WebsiteBox.coms feature-packed website offerings for realtors that include ready-to-go content, lead-capture and customer-relationship management (CRM), full Integration with local MLS boards (IDX), free lifetime web hosting and more.
WebsiteBox utilizes the Internet Data Exchange (IDX) policy instituted by the National Association of Realtors (NAR), which establishes how MLS member participants can display active MLS listing information on their websites. IDX allows realtors to show MLS listings on their websites, allowing access to thousands of listings in a customized format. Integration of CREA will up WebsiteBoxs MLS Integration profile to 262 MLS Boards across North America, making WebsiteBox one of the most powerful IDX solutions available.
WebsiteBox.coms fully integrated IDX in its customized realtor websites will help with their sites SEO (search engine optimization) and overall marketing.
The alternative, Framed IDX (currently the most common in the real estate industry,) is not crawlable by Google or other search engines.
Proud of its Canadian heritage, Toronto-based WebsiteBox is pleased with the benefits Canadian realtors will glean from the new feature.
We are excited to see the impact our affordable IDX Integrated websites will have on the way Canadian realtors do business, says WebsiteBox CEO Peyman Aleagha. Its only a matter of time before the majority of real estate professionals stop fearing the $ 99 price tag and make our powerful website solutions their own.
The Canadian Real Estate Association is one of Canadas largest single-industry trade associations, representing more than 106,000 realtors working through more than 90 real estate Boards and Associations.
The announcement comes just one day after the Canadian Real Estate Association released new statistical findings that show Canadian home sales rose 3.3 percent from May to June 2013, building on gains recorded in the previous two months.
For the second month in a row, sales improved in the majority of local markets, says CREA President Laura Leyser.
With home sales in Canada improved in two-thirds of the countrys local markets in June, CREA Integration in WebSiteBox.coms product platform could not come at a better time, Aleagha says.
For realtors, the jump in Canadas resale housing numbers is great news, Aleagha says.
Realtors are always looking for affordable ways to market themselves, and we designed WebsiteBox with that in mind.
Now that WebsiteBox integration with CREA is launched, there should be no more excuses for paying more than a one-time fee of $ 99 for a website with all the power and innovation they need.
According to Aleagha, the key advantage that the integration provides to real estate websites is its ability to boost website ranking among the search engines, including Google. The added text and images from the multitudes of CREA listings greatly enhance each WebsiteBox websites keyword index, increasing the number of visitors to the site and generating more leads.
In addition, realtors with a WebsiteBox website are able to have their listings posted on multiple websites simultaneously, reaching a larger number of viewers for greater lead generation and faster property sales.
WebsiteBox.com websites gives realtors full control of and accessibility to their own listings, on their own websites and elsewhere, guaranteeing their content is accurate and-up-to-date.
MLS