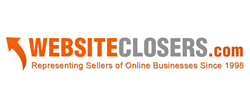 Tampa, FL (PRWEB) August 14, 2014
Specializing in buying and selling e-commerce websites, WebsiteClosers.com has recently announced the availability of internet business in the supplement sector for sale Their professionals have the expertise necessary to answer any question regarding the buying and selling of websites. Also, they have years of experience in selling a diverse array of businesses.
They also have experience in selling businesses like Amazon.com, eBay.com, Rakuten.com, Sears.com, and NewEgg.com. The company possesses an impeccable level of service and excellence in helping clients to sell businesses that operate within the internet space. These businesses include non-traditional digital companies like Daily Deals sites, Flash Sales sites, wholesalers, distributors, drop shippers, fulfillment centers and many others.
Being an online business owner, they understand the value of Search Engine Optimization, Search Engine Marketing and Social Media Optimization, running AdWords and AdCenter accounts, and creating brand awareness on social networks.
Apart from this, a spokesperson from WebsiteClosers.com mentions, Weve done it all, so weve lived in your shoes, we understand how and where to Sell an Internet Business, where youre coming from and we can speak your language, whether it be related to Algorithm updates, analyzing Google or other Analytics software, or traversing a content management system. We understand you best, and that, in addition to our two decades of experience in buying and selling businesses, make us a perfect fit as your website business broker.
About WebsiteClosers.com:
WebsiteClosers.com is dedicated to representing sellers of online businesses looking to exit their digital company. If one wants to know how to buy and sell websites, simply go to them to learn more. They have experience selling all digital business types, including e-commerce websites, software and app companies, Amazon Seller Central accounts, eBay businesses and other digital assets. They also have experience owning and operating these same companies. They are unmatched when it comes to learning how to sell an e-commerce site. In addition, they have helped sell businesses that operate within the Internet space, but are not traditional online businesses like Daily Deals sites, Flash Sales sites and many more.
For more information, please visit: http://www.websiteclosers.com.
Contact Details

Phone: 800-251-1559