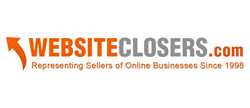 Tampa, FL (PRWEB) September 22, 2014
WebsiteClosers.com is an Internet Brokerage with expertise in selling technology companies, including eCommerce websites and Amazon accounts. The firm has been involved in transaction M&A for two decades, and works hard to maximize its clients profits, with maximum cash on the table at closing, through a mix of innovative, proprietary methods, including the use of third party strategic tax planning, legal and accounting specialists. Like any firm, we have a group of experts that manage a clients acquisition with expertise in the particular technology involved, and we handle transactions from as small as $ 100,000 to $ 50,000,000. So, whether a small business, or a growing mid-market tech company, WebsiteClosers.com can help in a number of ways.
A representative from WebsiteClosers.com recently talked about their many services via a radio podcast by creating a dialog around some of their methods relating to how to sell an internet business: WebsiteClosers.com performs a number of services to help a seller get through the oftentimes arduous process of selling eCommerce websites. We evaluate your business, help you with the development of an exit strategy, market your business with discretion, separate high quality buyers from tire kickers, arrange third party lenders, provide consulting services, provide the initial documents to get the process started, and much more. We are a full service firm that has seen basically every technology transaction from just about every direction.
WebsiteClosers.com Has Experience Selling eCommerce Websites
No matter what type of web property is to be sold, WebsiteClosers.com has experience selling eCommerce websites and a number of different types of sites including the representation of Amazon Seller Central accounts that dont know how to traverse the complicated task of selling an Amazon company, Daily Deals sites, Flash Sales sites, wholesalers, distributors, drop shippers, eBay businesses, businesses that sell on Buy.com, Sears.com, and NewEgg.com, SEM firms, Advertising Company, etc.
Due to their vast experience in the operation of various website properties and the ins and outs of internet marketing capabilities, WebsiteClosers.com knows how to properly sell an internet business. They offer a free consultation and valuation to those looking to sell their internet business and they dont take a commission until the website has been sold 100% success based.
About WebsiteClosers.com-

WebsiteClosers.com, a leading eCommerce broker, is dedicated to representing sellers of online businesses looking to exit. If one wants to know how to sell a website or buy a website, simply go to them to learn more. They have experience selling a number of different kinds of businesses, including e-commerce websites, software companies, Amazon businesses, eBay businesses, and other digital assets. They have experience owning and operating these same companies. They also help sell businesses that operate within the Internet space, but are not traditional online businesses like Daily Deals sites, Flash Sales sites and many more.
For more information, please visit- http://www.websiteclosers.com.
Contact Details-

Phone: 800-251-1559