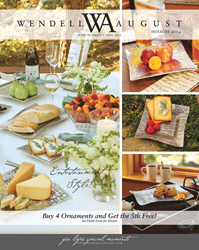 Fort Lauderdale, Florida (PRWEB) October 09, 2014
Wendell August announces the release of its 2014 Holiday Dynalog, an interactive online look book / catalog created with a new and cutting edge digital technology. The Wendell August Dynalog is powered by internet shopping expert Catalogs.com, which introduced this latest innovation in catalog shopping technology earlier this year.
The newly released 2014 Holiday Dynalog showcases the Wendell August annual Christmas collection, with its renowned selection of pewter ornaments, decorative hand forged holiday trays, unique metalcraft gifts and trendy upcycled jewelry. The 24-page Wendell August 2014 Holiday Dynalog is featured on the homepage of the Wendell August website. The Dynalog provides a shopping resource that makes it easy and fun for consumers to browse the stunning collection of their holiday-themed metal gifts. Wendell August Forge will also email its Dynalog to their customers and feature it across social media channels.
Wendell August is looking to expand our digital footprint and give our online customers a new, fun and interactive way to shop our products, says Erin Lewis, Wendell August Digital Marketing Manager. The Dynalog platform allows us to create a more comprehensive collection of catalogs and gift guides to help our customers throughout the discovery and idea phase of gift giving. We are excited to offer this new and exciting shopping experience to our customers.
Wendell Augusts Dynalog features hundreds of expertly curated holiday d