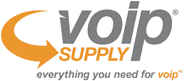 Buffalo, NY (PRWEB) May 08, 2015
VoIP Supply LLC, North Americas leading VoIP solutions provider, is pleased to announce the addition of four new associates in the first half of 2015.
Christian Buerk has been named Director of Sales to lead and develop the sales team. Mr. Buerk is responsible for managing multiple business divisions and product segments and helping VoIP Supply's expanding customer base find the right VoIP solution.
Buerk has over 10 years experience in the telecommunications industry having previously worked as the Sales Manager for Cogent Communications, Director of Sales for Sprint, and as a Customer Acquisitions Manager for LocalNet. He is a graduate of SUNY Buffalo (Criminal Justice).
Elizabeth Krohn is the new Product Marketing Specialist tasked with brand development of over 30 VoIP manufacturers and the daily management of VoIP Supplys online catalog of 6,500 products. Mrs. Krohn brings technology and marketing experience from her previous position at Ingram Micro as a Market Development Specialist.
VoIP Supplys marketing department also added John Caligiuri as the Search Marketing Specialist. Mr. Caligiuri is responsible for monitoring and optimizing web site conversion rates via analytics reporting, SEO, SEM, PPC campaigns, keyword research, A/B testing, and link building strategies.
Wes Mathews has been named Cloud Specialist at VoIP Supply. Mr. Mathews is responsible for managing and growing VoIP Supplys line of CloudSpan SIP trunking, hosted PBX, and hosted fax services.
Mr. Mathews will also help customers implement VoIP service solutions and handle technical support questions. Mathews has extensive VoIP and cloud experience having previously worked for Digium Cloud Services as Customer Care Manager, VocalCloud as Director of Customer Services, and One Ring Networks as a LAN/Field Engineer. He is a graduate of the State University of New York College at Fredonia (Chemistry, Secondary Education).
VoIP Supply is excited to bring on new people with new ideas, said Benjamin P. Sayers, Chief Executive Officer of VoIP Supply. As our company continues to grow, we look forward to pushing our customer experience to an even higher level.
For additional information about VoIP Supply, call toll-free 800-398-8647, or visit http://www.voipsupply.com.
About VoIP Supply
We solve problems and create solutions with VoIP. VoIP Supply is a world class place to work with big goals, a clear vision, defined purpose and a dedicated team of passionate business professionals. We love what we do and do it better than any of our competition.
Since 2002, VoIP Supply has been the leading supplier of VoIP equipment and complete VoIP solutions in North America. We are known in the industry as responsive and knowledgeable VoIP product experts.
With everything you need for VoIP, VoIP Supply has grown rapidly throughout the years. VoIP Supply is a three-time Inc. 500/5000 honoree, listed by Business First as one of WNYs Most Admired Companies, as well as one of Western New York's Best Places to Work for many consecutive years.. VoIP Supply is also the first Certified B Corporation in Western New York.