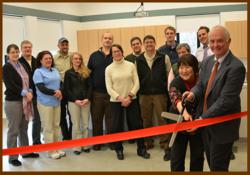 West Chester, PA (PRWEB) January 30, 2013
Westtown School, a pre-K 12 college prep school in West Chester, PA, held a ribbon-cutting ceremony Friday, January 25 to inaugurate a new Digital Media classroom. The space supports an innovative Digital Media course in the Art Department which is consistent with a school-wide vision for STEAM education, adding art and design to the more traditional STEM constellation science, technology, engineering and math. The new classroom includes 13 Mac computers, scanners and an archival inkjet printer, as well as a work-space for incorporating other media into students individual and group design projects.
The Digital Media class at Westtown has much in common with fine arts programs at the college and university level. Upper School Principal Eric Mayer explains: Conversations with college professors helped us understand the goals collegiate programs have for high school instruction in digital arts one of which is that this is an art course that uses digital media, not a tech course that occurs in the art building.
Westtowns Digital Media course demands more of students than typical graphic design classes in many high schools. While it addresses the needs of students who may not be proficient at drawing and painting but who like working with computers, it also requires them to think creatively like artists by using images to communicate and explore the possibilities offered by different materials such as wood, metal and fabric when combined with what can be done with a computer.
Each student in Westtowns Digital Media class is expected to create several projects over the course of a semester. Examples include photo books and collage boxes, as well as functional objects. According to teacher Cindy Petruccillo, what will be common to all these projects is an emphasis on self-expression and authentic representation by each student.
Westtowns strategic plan for academic programming has prioritized the kinds of skills that best prepare students for college and work, as part of Westtown's distinctively "life-size" education. Science, technology, engineering and math are certainly important for future-readiness, but Westtown is on the forefront of schools that also recognize the importance of arts instruction and creativity-related components as being equally critical to fostering a competitive and innovative workforce.
As a result, STEAM-based interdisciplinary coursework is a growing phenomenon at Westtown, says Dr. Margaret Haviland, Director of Teaching and Learning. The Upper, Middle and Lower Schools at Westtown all offer units on robotics, for example. STEAM thinking was also behind a recent, wildly popular 7th grade science project. Students started an engineering and design unit by reviewing simple machines. Then the teacher challenged them to build a Rube Goldberg contraption that used at least three different types of simple machines and no fewer than eight machines altogether. The process had to start with the drop of a marble and the objective was to burst one or more balloons at the end. The resulting contraptions were comical and laboriously contrived and more significantly, they were all innovative. Most of them achieved the desired balloon pop but even when they didn't, learning happened because the class worked together to suggest modifications and improvements.
Haviland continues, Westtowns Digital Media class is just another vehicle for giving our students the tools that really matter in the world. This high-interest class helps them collaborate, communicate, and work across academic disciplines to develop innovative solutions to real-world problems.