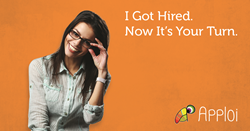 New York, NY (PRWEB) January 13, 2015
Apploi announced today that they are conducting a special outreach effort in response to the Jan 7th, 2015 article in The Washington Post which reported, "Angry Wet Seal Employees Refuse to Take Layoffs Quietly." All Wet Seal workers are welcome to use the Apploi app to find new retail jobs. They can apply to any of the hundreds of thousands of jobs posted on Apploi by retail companies looking for new employees who in some cases already have retail experience.
Former Wet Seal employees can apply to jobs at some of the leading brands who use Apploi to fill their open positions including: Rue21, bebe, Uniqlo, Forever21, J. Crew, H&M, Aldo, Burlington and over 3000 different companies who posted their job openings on Apploi.
"We want to help these workers move forward and transition into a new job as quickly as possible," said Daniel Freedman, Applois Chief Strategy Officer. "Our partners are looking for talented people to fill their open jobs and having strong retail experience should be an advantage."
Applois partnership with Westfield Malls means that Job seekers can apply at Apploi Kiosks strategically placed in 30+ malls throughout the United States. The Apploi job search Kiosks connect job seekers to opportunities they might otherwise miss using traditional job search techniques.
In addition to the Kiosks, Apploi offers a mobile job search App which is available to download in both iOS and Android devices. Using the mobile app, users can search for jobs on their phones or tablets using GPS to target local jobs based on their location.
Using Apploi, job seekers do not even need a resume. Users find an interesting job, answer a few simple questions and then submit their application.
About Apploi

Apploi is an ecosystem for the job seeker. We are an app, available on the Google Play and App stores, as well as a website, where we post written and video advice content. Working with over 2000 brands across America, Apploi posts jobs, mainly in the retail, services and hospitality industries. By applying directly though the app with a video, job seekers can show their personality far more effectively than a traditional resume could. The Internet never did for the service industries what it did for corporate hiring, and we're trying to change that.
Employers wishing to learn more can contact employers(at)apploi(dot)com or call 212-273-9694.
For press inquiries please email press(at)apploi(dot)com.