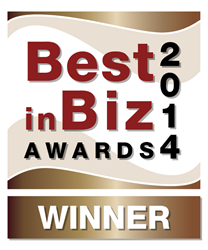 New York, NY (PRWEB) December 04, 2014
WeWIN, a division of New York City based commerce leader Axle Digital, has been named a bronze winner in Most Innovative Service of the Year category in Best in Biz Awards 2014, the only independent business awards program judged by members of the press and industry analysts.
In September 2014, WeWIN introduced its innovative service that enables retailers and nonprofits to easily incorporate tangible retail rewards into cause marketing programs. WeWIN has developed the first API-based (Application Programming Interface) rewards program integrated into a mobile application.
The cause commerce platform opens doors for retailers and brands of all sizes to connect with their fans and the causes they care about. By directly integrating with retailer ecommerce systems, WeWIN provides a completely unique way for nonprofits to thank their donors and for retailers, big and small, to utilize todays technology and partake in cause marketing efforts. It can be easily scaled and tailored to meet individual organization needs. WeWINs platform features geolocation capabilities allowing mom & pop stores and small brands to participate in major charity campaigns alongside national retailers.
The WeWIN Platform powers the rewards portion of the new American Red Cross Blood Donor App. With the successful launch of the Red Cross project under its belt, WeWIN will now roll out this service to pair more nonprofits and retailers. We're excited that WeWIN's collaboration on the Red Cross Blood Donor app resulted in the recognition of the Rewards Platform as Most Innovative Service, Bronze Award by Best in Biz Awards, said Matt Goldfeder, senior director, Mobile Product Development for the American Red Cross. We look forward to new and innovative projects with WeWIN in 2015.
Best in Biz Awards fourth annual North American program was its most competitive yet. As in previous years, the fourth annual program in North America featured a large and distinguished judging panel comprised of members of the media who reviewed and scored the hundreds of award nominations. More than 550 award nominations were received this year in a variety of company, executive, team, and product focused categories. Nominations were fielded from public and private companies of all sizes, from virtually every major industry and region in the U.S. and Canada.
It is an honor to be recognized as a Best in Biz Winner alongside such esteemed technology leaders as PayPal, Toshiba, Dell, Blackberry, AT&T and Vonage, said Syd Dufton, President & CEO of WeWIN. We are going for the gold in 2015 with our new projects slated for this year.
Winners of Best in Biz Awards 2014 were determined based on scoring from an independent panel of 53 judges from highly recognized newspapers, business, consumer and technology publications, radio outlets, and analyst firms. In addition to the numerous judges returning from previous panels, this years 53-person judging panel included several worthy additions to this high-profile group. The panel included contributors to AdWeek, American Banker, Android Central, Atlanta Tribune, Boston.com, Buffalo News, Business News Daily, Chip Design Magazine, Computerworld, Connecting Women Radio, Consumer Affairs, Crains New York Business, CRN, Detroit Free Press, Digital Trends, ECT News Network, Entrepreneur, eWeek Channel Insider, Fierce Online Video, IDB Ventures, IEEE Institute, Inc. Magazine, InfoRisk Today, Information Week, Journal Times, King Features Syndicate, L.A. Biz, Lab Reviews, Law Technology News, Marketing Profs, MediaPost, Miami Herald, Motley Fool, New York Observer, NorthBay Biz, PC Magazine, peHUB, Phoenix Business Journal, Quad-City Times, San Jose Mercury News, Silicon Valley Business Journal, Small Business Digest, Tech Cocktail, Tech-Gaming, TheDeal.com, Upstart Business Journal, Venture Capital Journal, Wired, Xconomy and ZDNet.
About WeWIN

WeWIN is a division of New York City based Axle Digital, specializing in fully customizable solutions for integration into ecommerce systems engaging customers any place, any time. Axle Digital and the WeWIN team have more than a decade of experience with successful commerce systems for major brands and retailers like Nordstrom and Gap. WeWIN was born following Hurricane Sandy as the Axle Digital team witnessed firsthand how retailers, causes and consumers looked to social media to help organize donations and relief efforts. The WeWIN platform bridges the gap between ideas, causes, products and customers with a single interface. It is the first API-based (Application Programming Interface) rewards program tied to retail. WeWIN is offering schools, charities and nonprofit organizations a way to thank their donors and retailers a way to engage fans with the causes they care about. For more information about WeWIN and its commitment to powering the next generation of giving, visit http://www.WeWIN.com. Or connect with WeWIN on Facebook, Google+, LinkedIn, Pinterest and Twitter.
About Best in Biz Awards

Best in Biz Awards recognizes top companies, teams, executives and products for their business success as judged by established members of the press and industry analysts. Best in Biz Awards honors are conferred in two separate programs annually: North America, and International. Entries will begin to be accepted in the Best in Biz Awards 2015 International program in January 2015. Any organization worldwide may participate in the International program in any of the more than 60 company, department or team, executive and product categories. For more information about the entry process and categories in the International program, please visit: http://intl.bestinbizawards.com.
Media Contact:

Press(at)WeWIN(dot)com