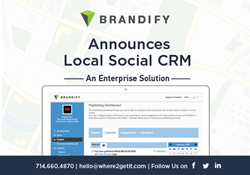 Anaheim, CA (PRWEB) April 21, 2015
Brandify has successfully transformed brands social consciousness and helped develop more customer service-oriented organizations. Brandifys new Local-Social CRM gives enterprise brands the ability to publish content on major social channels, such as Facebook. The Social CRM feature falls in line with Brandifys vision to connect online consumers to offline locations by creating locally relevant content across time, situation and channel.
In conjunction with Brandifys Review Management and Response functionality, this feature will continue to elevate an enterprises social engagement Brand Score. Brandify 2.0 also comes with additional enhancements such as improved Google organic SEO and local page analytics. The Google SEO analytics tool has been enhanced to help measure the impact of local SEO on properties spanning from local pages like Foursquare, Facebook and Yellow Pages listings. With the local consumer and competitive intel that these new tools provide, brands will have the ability to boost visibility for each location.
We know that the path to purchase is filled with all sorts of leakages, and the best way to fill these gaps is by providing the most personalized experience to customers, said Manish Patel, founder and CEO of Where2GetIt. With this in mind, we have updated Brandify 2.0 to track and improve local-social signals in order to help brands meet the customer at the point of purchase.
To learn more about these updates and Brandifys capabilities, visit http://www.where2getit.com.
About Where2GetIt

Where2GetIt was established in 1997 and has since grown into an industry-leading provider of location-based digital marketing solutions, powering more than 500 brands. Serving more than 4,500,000 brick and mortar locations. Where2GetIt has channel strength that reaches millions of consumers around the world. CEO Manish Patel has lead Where2GetIt in developing local marketing solutions that include the Brandify Platform, scalable Local SEO, local advertising, mobile-local technologies and local-social marketing tools.