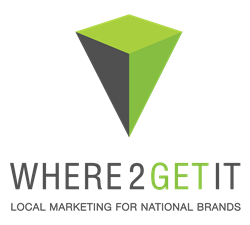 ANAHEIM, CA (PRWEB)
June 29, 2015
Where2GetIt (http://www.where2getit.com/), an industry-leading provider of location-based digital marketing solutions, is pleased to announce it has been named a winner for the RuleBreaker awards. The unconventional awards program, sponsored by Sage North America, Nextiva and InfusionSoft, celebrates entrepreneurs who flout convention, forge their own paths and break all the rules.
Where2GetIt has been selected as a Judges Choice for the Technology Provider, Over $ 5M in Sales category. Manish Patel, the company's founder and CEO, is being recognized for revolutionizing the industry by ignoring conventional wisdom and doing things his way.
I was told that to raise money was the only way to survive this volatile game we call entrepreneurship, said Manish Patel. Instead, I focused on profit, growth and sustainability. Eighteen years later, we are one of the strongest players in this industry.
Where2GetIt is also in contention for the RuleBreaker Awards grand-prize along with 18 other finalists. The grand-prize will be awarded to a company that has risen to meet all challenges and has shown persistence ultimately resulting in organizational success.
Were proud to honor entrepreneurs who have succeeded by doing it their way, said Rieva Lesonsky, CEO of GrowBiz Media and a co-host of the RuleBreaker Awards.
Choosing the finalists was a difficult decision, said co-host Mike Michalowicz, author of The Pumpkin Plan. It was inspiring to discover so many entrepreneurs revolutionizing their industries.
All of our Rulebreakers have one thing in common: Theyre passionate about making a difference in business, said co-host Barry Moltz, author of How to Get Unstuck.
Where2GetIt will be honored at an awards ceremony at the Sage Summit on July 28 in New Orleans. The grand-prize winner will also be chosen from the finalists at that time. For more information about the contest, visit http://www.rulebreakerawards.com.
About Where2GetIt

Where2GetIt was established in 1997 and has since grown into an industry-leading provider of location-based digital marketing solutions, powering more than 500 brands. Serving more than 4,500,000 brick and mortar locations. Where2GetIt has channel strength that reaches millions of consumers around the world. CEO Manish Patel has lead Where2GetIt in developing local marketing solutions that include the Brandify Platform, scalable Local SEO, local advertising, mobile-local technologies and local-social marketing tools.