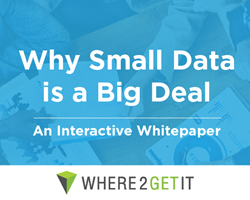 Anaheim, CA (PRWEB) April 02, 2015
Where2GetIt, a leading provider of the local digital marketing platform Brandify, today released an interactive white paper highlighting the need for brands to take ownership of their location data.
The whitepaper, entitled Why Small Data Is a Big Deal breaks down Small and Big Data usage by consumer habits. In a consumer-driven, check-in culture, brands need to be proactive about claiming and syndicating clean, consistent and accurate location data. This can only be done with an efficient digital marketing solution to take marketing efforts to the next level.
Mobile First is the way of the present and future. The path to purchase (P2P) as marketers knew it has been completely disrupted as an impact of Mobile First allowing consumers to make quicker purchasing decisions, said Manish patel, Founder and CEO of Where2GetIt. It is imperative for brands to have accurate and consistent location data in order engage and convert consumers traveling down the P2P.
Supporting these arguments, the whitepaper highlights several key facts including:

50% of smartphone searches visit a business that same day

80% of people use their smartphone to look up local information

1 in 3 smartphone searches occur right before consumers visit a store

Consumers are 22% more likely to consider a brand as a result of real-time marketing.
To read the full whitepaper, visit: http://www.where2getit.com/brandify/small-data-big-deal/index.html
About Where2GetIt

Where2GetIt was founded by CEO Manish Patel in 1997 and has since grown into an industry-leading provider of location-based digital marketing solutions powering more than 500 brands. Serving more than 4,500,000 brick and mortar locations, Where2GetIt has channel strength that reaches millions of consumers around the world. Patel has lead Where2GetIt in developing local marketing solutions that include the Brandify Platform, scalable Local SEO, local advertising, mobile-local technologies and local-social marketing tools.
SOURCE Where2GetIt

RELATED LINKS

http://www.where2getit.com