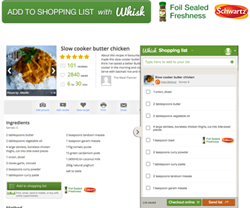 Birmingham, UK (PRWEB UK) 27 March 2015
Birmingham-based Whisk.com has launched its advertising platform WhiskAds globally and has added to its team two seasoned executives to lead sales and marketing.
Whisk is a VC-funded tech startup that has built a smart shopping list tool, which is integrated into major recipe sites like Allrecipes and FoodNetwork and connects shoppers to leading online stores like Asda, Tesco, Waitrose and Ocado.
Whisk continues to broaden its appeal in CPG / FMCG markets with the international availability of WhiskAds, an innovative shopper marketing and advertising platform that allows food brands to leverage popular recipe content with product placements integrated directly into the recipe and shopping list.
WhiskAds unique targeting capabilities enable brands around the world to participate in the consumers entire journey — from recipe search and meal planning to food shopping — to get their products purchased. These market-leading targeting capabilities allow food manufacturers to present branded products within the recipe, in the shoppers online supermarket carts, as well as placed within offline or online shopping lists.
To extend WhiskAds into international markets, Whisk has added to its team both an experienced sales and marketing executive.
Vickie Seymour-Perry brings more than 20 years sales and business experience and joins Whisk from previous roles at KPMG and New Channel Developments. Vickie will lead Whisks sales and business development and further relationships with FMCG brands. Vickies role will also extend Whisks partner ecosystem, building new partnerships with supermarkets in the UK and worldwide across Europe, North America and Australia.
Whisk also recently brought on board Jennifer Edwards as Chief Marketing Officer. Jennifer relocated last year to Birmingham from San Francisco, California, where she spent the last 15 years directing a number of high-profile public relations and marketing campaigns for companies including Intel, Yahoo!, BillShrink, Splunk and the venture firms Intel Capital, August Capital and Sevin Rosen Funds.
Nick Holzherr, founder and CEO of Whisk, said: As Whisk goes from strength to strength, continuing to build an unbeatable team remains a priority and welcoming both Vickie and Jennifer to our business is a fantastic step forward. In both their fields, they have an exceptional records of success and will help Whisk gain traction in international markets.
Whisk is an exciting start-up that is at the forefront of shopping list and recipe finder innovation, offering compelling technology solutions to shoppers and advertisers, said Vickie Seymour-Perry. It is a great time to join the team and further extend Whisks relationships with consumer goods brands, recipe publishers and supermarket retailers.
Whisk has the people, vision, technology and partnerships to be a break-out company, Jennifer commented. I am thrilled to help make the Whisk vision a reality, further enabling the success of Whisks innovative shopping list app for users, and our digital advertising platform and food genome technology for food brands.
Both Vickie and Jennifer are based in Whisks offices in Birmingham, UK.
About Whisk

Whisk.com is a free digital shopping list app that makes the journey from online recipe inspiration and meal planning to real-life shopping a whole lot easier.
Whisk works with leading recipe publishers to link shoppers to more than 300,000 recipes from leading recipe publishers, including FoodNetwork, Woman & Home, The Telegraph and Allrecipes, the worlds largest digital food brand, which receives more than 1 billion annual visits across their 19 localised recipe sites.
Whisk seamlessly displays a "Create a Smart Shopping List" button on recipe sites, allowing users to quickly create a digital shopping list from any recipe. Whisk has also integrated with supermarkets Ocado, Tesco, ASDA and Waitrose which enables shoppers in the UK (more international supermarket to be announced) to send recipe ingredients straight to online supermarket baskets.
Whisk accolades include a Cisco British Innovation Gateway award, The Grocers "Top New Talent" award and the PPA Digital Newcomer of the Year award. Whisk has been featured in leading publications including Wired, The Guardian, The Independent, The Telegraph, BBC, Internet Retailing, Food Manufacturer and The Next Web.
Whisks free shopping list app was recently featured as one of the "Best New Apps" in iTunes Food & Drink category. Whisks supermarket shopping list and recipe finder app is currently available for download on the Apple iTunes and Android App Stores. It is also available as browser plug-in so users can create a shopping list from any recipe on the web.
Birmingham-based, Whisk was launched in January 2013 and was founded by Nick Holzherr, who raised funding for the venture after pitching the business to Lord Sugar as a finalist on the 2012 BBC TV series The Apprentice.
For sales enquiries, please contact:

Vickie Seymour-Perry

Business Development, Whisk

Vickie(at)whisk(dot)com

+44 (0)7866 768130